When:
2021-06-16 @ 8:00 am – 2:00 pm
2021-06-16T08:00:00+02:00
2021-06-16T14:00:00+02:00
Where:
Killarney Race Circuit
6 Potsdam Rd
Table View, Cape Town, 7439
South Africa

The Killarney Reverse race will still take place tomorrow however we will need to employ strict control measures to conform to the latest governmental restrictions.
Spectators will NOT be allowed as that will impact on the number of people we have at track side at any one time.
Please adhere to any instructions given to you by race officials.
We are trying to do our best to bring you an event that adheres to the new regulations. Please work with us on this!!! Thank you for understanding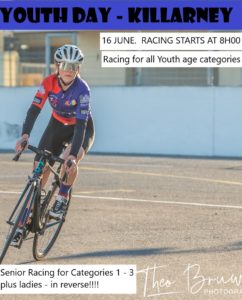 We will be revisiting Killarney on Youth Day, with a twist!!!
Racing will be in the opposite direction to what we usually race.  We will be catering for Categories 1, 2 and 3, as well as women and all of the youth categories.  U19's will have their own race and not race with Category 1.
As it's Youth Day, we would love to see all of our youngsters joining in the fun!  This will be one of the events for Youth selection for Oudtshoorn and the SA Youth Festival.
There will be strict COVID protocols in place for this event.
COVID Regulations
We are  still required to adhere to the COVID-19 regulations that have been published by the Department of Sport and Culture.  To this end we require that all cyclists maintain social distancing while not racing.  The use of masks prior to the start of the race is compulsory.  You will be required to have your temperature taken at the entrance to Killarney.  All participants and supporters are to use Gate 5 – the one closest to Cape Town, to enter the grounds.  Upon arriving at registration, ALL people attending the race are required to fill out the COVID screening forms.  From there, you are to move to the registration tables where the race staff will take your temperature again, fill it in on the form and issue you with a paper bracelet which is to be worn at all times in and around the racing areas.  Masks are also to be worn at all times and it is imperative that we adhere to the social distancing protocols.
We are looking at ways to work within the bounds laid down by CSA and the Department of Sport and Culture to ensure that we can hold a successful event.
Routes and distances
For safety reasons the size of each category will be limited. Once these limits are reached it will no longer be possible to enter those categories. This will be on a first-come-first-serve bases.
Cat 1 entries will be restricted to participants with BOTH a CSA Membership and CSA Full Domestic Racing License valid on Wednesday 16 June 2021.  No day licenses will be allowed for Cat 1.
Starting times
Racing will start at 8h00.  Start times for each group will be published closer to the time. Large groups with more than 50 participants will be split into two separate start groups, starting a few seconds apart, similar to Killarney racing during the week.
Costs
Online entries, using the Enter Now button found on this page, is the only way to enter our races at present. Entries close the Friday prior to the race.  Due to the restrictions placed on us due to the COVID pandemic, we cannot take entries on the day
The costs for this race are:
| Category | Price |
| --- | --- |
| Category 1 – 3 | R250 |
| Women | R250 |
| U19, U17 and Category 4 | R150 |
| U 11 / U13 / U15 | R50 |
Online registration
All categories are now full. We will not be able to accommodate any more people.
Event management, online entries and payments made possible by

Problems with CSA Membership or Licenses?
See the page about CSA membership or licenses, or if you have problems with this during the registration process. NOTE: A CSA Full Domestic Racing License is required for Cat 1 for this race.
Parking
All people attending the race are to enter Killarney through the southern most gate – Gate 5.  You will have your temperature checked at this point.  From there you are to proceed to the parking area behind the new pits.  From here, you will have to come through the race COVID screening station at the ent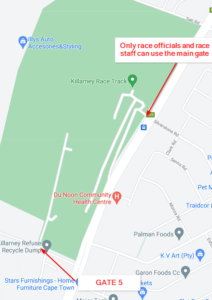 rance to the pits.  Participants and spectators alike will have to fill in the COVID questionnaire and have their temperature taken for a second time.  Unfortunately, both Killarney and WPCA have to keep records of those entering the premises so please do not feel that you can circumvent the checks at the pit area.