When:
2020-10-11 @ 7:00 am – 12:00 pm
2020-10-11T07:00:00+02:00
2020-10-11T12:00:00+02:00
Contact:
Carol Crawford
011 802 1818
Be a Sports Trust "HERO" for our Community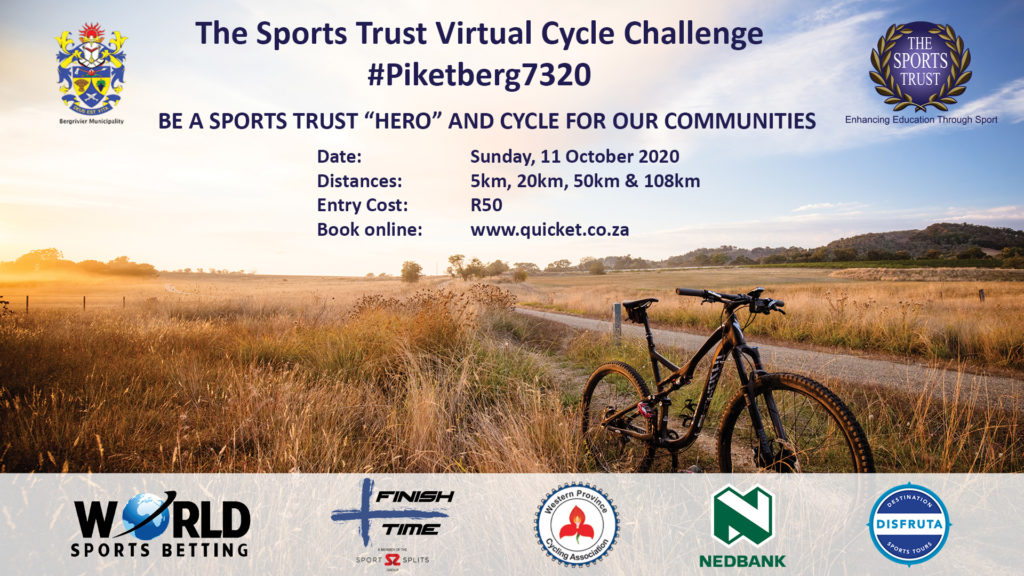 The Sports Trust is excited to be hosting its inaugural Virtual Cycle Challenge as Covid-19 has led to dramatic adjustments, changes and reinventing the way sports participation is managed the globe over. As such, The Sports Trust has adapted accordingly, to ensure that it delivers on its stated mandate and objectives.
The Trust hosts a number of community cycling events for the advancement of the Development Cycling Programme as a priority. These events provide the cyclists and the communities with platforms to promote the sport, generate income and provide an opportunity to participate in competitive races.
This inaugural Sports Trust Virtual Cycle Challenge is taking place on Sunday 11 October 2020 with the Piketberg community, identified as the main beneficiary. The format is flexible, open and accessible for all cyclists, irrespective of their physical and geographical location. You can use your road bike or mountain bike and cycle where ever you choose. Please adhere to the COVID19 regulations in your country on the day and remember to be
safe and wear your helmet.
Cyclists can choose their distance according to their fitness level, which includes 5km, 20km, 50km and 108km on the day. Please remember to record your time using any fitness device or STAVA app. Once completed, you will need to manually upload your times onto www.finishtime.co.za to be eligible for your certificate of completion.
Entries are online using www.Quicket.co.za for this challenge and cost ZAR 50 per person. Remember that you need to complete the challenge on the actual day of Sunday 11 October 2020 and manually record your times.
We invite you to be part of this inaugural "Virtual Cycle Challenge" and be a Sports Trust "HERO" for our Piketberg community.
We look forward to seeing you and connecting with you on our social media platforms and remember to tag us using #STVirtualCycle, #STHero.
For more information and to Enter online visit our website www.thesportstrust.co.za