Enduro
racing
in its most basic definition

is a type of mountain bike racing where the downhills are timed, and the uphills are not. It is the racing embodiment of the trail ride that you do with your friends on the weekend!
Riders are timed against the clock on primarily downhill sections (called Stages), with neutral (non-racing) sections in between (called Liaisons). Winners are those who accumulate the lowest combined time from the timed stages.
We welcome ALL riders and our courses are totally rideable as long as you are enthusiastic about riding fun singletrack. It's like a weekend ride with your mates – regroup at the top and race each other down the trail! 
Enduros can be raced on all types of mountain bike but we recommend full suspension trail bikes with travel between 120-160mm with dropper seat posts.  Protective clothing (long sleeves, knee cover and full finger gloves)  is advised. Open face helmets are fine while some riders choose to wear full face helmets.
Overview of Enduro events in the Western Cape
Dirtopia Enduros

If you are new to Enduro then the Dirtopia events are a perfect introduction to the discipline. Independently run by the same folks that bring you the Spur Schools Series and many other MTB and trail running races throughout the year, the Dirtopia Enduros are very well organised, and generally on slightly easier trails – probably the very same trails that you ride on the odd weekend with your friends or for training.
Follow Dirtopia All-Mountain Enduro on Facebook
Dirtopia Enduro events website
Enduro Western Cape Series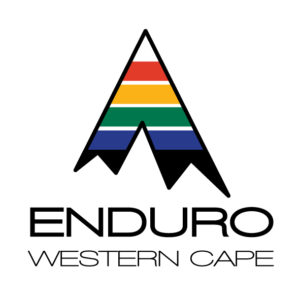 The Enduro Western Cape (EWC) Series is a provincial series of multiple races sanctioned by Cycling South Africa, and takes it up a notch in terms of overall difficulty, in order to help riders progress towards the levels that are expected at National and International level. Points are accumulated throughout the series to determine overall winners in all age categories, and award Provincial Colours for individual achievement. If you are comfortable with Dirtopia events, then you will probably be happy to race the EWC events too!
Follow EWC on Facebook for all event details.
Enduro Colours Criteria can be found here.
Others
And then if you would like to take it up yet another notch, then their are a few other independent Enduro races that either take you somewhere remote and special, and/or push the boundaries of physical fitness and technical ability. Keep an ear out for EzelEnduro, Klipberg Enduro or Kingdom Enduro!
2019 Event Dates
17 February – Dirtopia Enduro
28 April – Dirtopia Enduro
19 May – Dirtopia Enduro
9 June – EWC #1, Contermanskloof
29 June – Greyton Trail Town Takeover
21 July – EWC #2, Hoogekraal
6 October – EWC #3, Jonkershoek-National Enduro Champs, and EWS Qualifier event
Results
2019 Enduro Western Cape Series
Race #1, Contermanskloof, 9 June 2019 or   (PDF)
Race #2 Hoogekraal, 21 July 2019   or   (PDF)
EWC 2019 Series standings
Click here for race day results
2018 Enduro Western Cape Series
EWC 2018 Overall Men Series Standings here
EWC 2018  Overall Women Series Standings here
EWC 2018 Age Category Series standings here
Check out our 'How to Enduro' Video below-it's packed with all the info you need to race!

The EWC Race series is bought to you by Tygerberg MTB Club and Giant Bicycles, South  Africa.
Enduro Western Cape is supported by:
The EWC Team
Chairman: Harry Millar
Treasurer: Michelle Witteveen
Committee member: Ezanne Jordaan
Committee member: Jacques Venter
Committee member: Rupert von Tutscheck
Committee member: Daniel Dobinson