Race day results
Race Dates
Official Results
Informative video
Frequently Asked Questions
Rules
ENDURO BASICS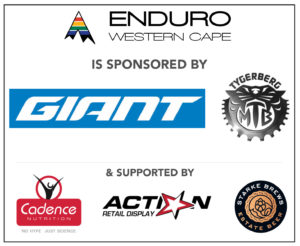 Enduro racing in its most basic definition is a type of mountain bike racing where the downhills are timed, and the uphills are not. It is the racing embodiment of the trail ride that you do with your friends on the weekend!
Riders are timed against the clock on primarily downhill sections (called Stages), with neutral (non-racing) sections in between (called Liaisons). Winners are those who accumulate the lowest combined time from the timed stages.
We welcome ALL riders and our courses are totally rideable as long as you are enthusiastic about riding fun singletrack. It's like a weekend ride with your mates – regroup at the top and race each other down the trail! 
Enduros can be raced on all types of mountain bike but we recommend full suspension trail bikes with travel between 120-160mm with dropper seat posts. Fit chunky tyres and a dropper seat post to your marathon bike, and you will be good to go! Protective clothing (long sleeves, knee cover and full finger gloves)  is advised. Open face helmets are fine while some riders choose to wear full face helmets.
---
2020 EWC RACE DATES
24 May – EWC #1
19 July – EWC #2
6 Sept  – EWC #3
---
RESULTS
2019 Race #1, Contermanskloof  or  (PDF)
2019 Race #2 Hoogekraal   or   (PDF)
2019 Race #3 Jonkershoek   or   (PDF)
2019 EWC Series standings
2019 Provincial Colours recipients (PDF)
2018 EWC Men Series Standings
2018 EWC Women Series Standings
2018 EWC Age Category Series Standings
2018 Provincial Colours recipients (PDF)
---
HOW TO
Check out our 'How to Enduro' Video below – it's packed with all the info you need to race!

---
BASIC ENDURO RULES
Riders must leave a minimum 20 second gap from the previous rider before departing on their special stage.
Helmets are to be worn at all times including liaisons.
Follow the designated, signed liaison routes. If there are no signs carry on the road that you are on.
Respect is to the faster rider, so if you get caught up to, please move over as soon as safely possible to let them pass.
Riders catching a slower rider, shout "TRACK" or "RIDER!" loud, politely and well in advance.
No public vehicles are permitted on the mountain for spectating.
If you break any course tape, you need to go back and fix it.
No short cuts or riding through/over course tape is allowed.
Riders must be fully self sufficient and have enough water for two hours of riding.
If you come across in injured rider, you must give assistance and inform a marshal ASAP.
---
THE EWC TEAM
Chairman: Harry Millar

Treasurer: Michelle Witteveen

Committee member: Ezanne Jordaan

Committee member: Jacques Venter

Committee member: Rupert von Tutscheck