Dec
16
Sat
CAPE TOWN GP – BELLVILLE VELODROME

@ Bellville velodrome
Dec 16 @ 4:00 pm – 8:00 pm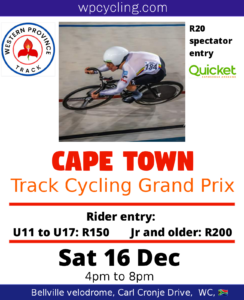 Provisional program: Cape Town Grand Prix – 16 Dec 2023
Spectator tickets R20. Available on Quicket
Rider entry fee:
R200 – jr and older
R150  – u11, u13, u15, u17
Entering to the event is subject acceptance of the:
WPCA WAIVER AND CONSENT FORMS FOR TRACK
NOTE THAT WE ARE SAFE FOR LOADSHEDDING, BUT NEED TO BE DONE BEFORE 8pm
PRE-ENTRY only by Eft to Wp cycling. Entries close on Tue 12 Dec 2023
RACE CATEGORIES:
Open Sprint tournament (u17 and older on open gears)
Cat A (jr, elite and older)
Cat B (u17 boys and older not in Cat A)
Cat C (U17 girls and U15 boys)
Cat D (Veterans and Women)
Cat E (U11 Boys and Girls, U13 boys and Girls, U 15 Girls)
How to enter:
Mail proof of payment, name and race category to [email protected]
There will be an open sprint tournament for u17 and older. Riders to indicate if they are interested in the tournament. Tournament open to men and women. Please indicate "sprint" on mail to [email protected] if you are entering the sprint tournament.
Bank details:
Western Province cycling association
Standard Bank
Account type: Current account
Account Number 20 095 798 8
Universal branch Number: 051 001
Proof of payment: [email protected]
NUMBER COLLECTION and SIGN-ON open at 3pm  and close at 3.30pm on Saturday 16 December 2023.
Pre-entry only, no late entries accepted.

Pop needs to be completed by deadline

All riders must display an active CSA membership card (soft copy on phone or print-out). Membership numbers alone are not acceptable – a copy of active membership is required.
MANAGERS BRIEFING AT 3:45pm
RACING STARTS AT 4pm
Dec
26
Tue
Paarl Boxing Day Track Challenge 2023

@ Faure Stadium
Dec 26 @ 12:30 pm – 6:00 pm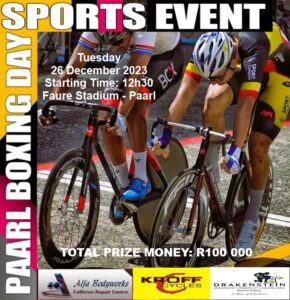 BOXING DAY ENTRIES ARE NOW OPEN!
The 125th staging of the historic Paarl Boxing Day Track Challenge will see South Africa's top professionals as well as a host of international riders tackle each in front of the passionate Faure Street Stadium crowd.
Past winner and international star, Jonas Rickaert has also confirmed his participation. A total of R100 000 is up for grabs in prize money this year. Paarl Boxing Day is well known worldwide as one of the oldest events in all forms of cycling in the world.
The meeting started in 1897. The saying goes in Paarl that you might be the best in the world in a certain track cycling event, but it doesn't mean much if you're second best in Paarl!
Paarl is the cradle of track cycling in South-Africa. Boxing Day is not only the biggest track cycling event in Africa, it's also one of the most spectated sporting events on the continent. The meeting concludes with the famous 25 Mile Race and the winner of the final event is regarded as the winner of the day. In addition to a prize purse, the Minnaar Cup floating trophy, which dates to 1908, is also up for grabs.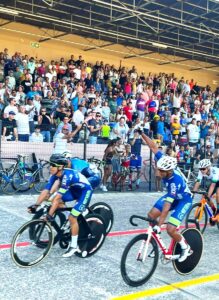 Entries and registration:
Eligibility:
This event is open to all age categories and nationalities.
All riders must be in possession of a valid Cycling South Africa Track Racing License (Cycling SA Membership is not sufficient for Juniors and older).
Rider licenses have been verified before the time but must still be presented at registration.
Riders are not considered registered until all administrative requirements have been fulfilled:
• Entry form has been completed in full together with signed indemnity form
• Entry Fee has been paid in full
Entry Fee:

Elite Men/Women:      R350
Master Men/Women: R350
Junior Men/Women:  R350
All Youth/Scholars:      R250
NO LATE ENTRIES!
Registration:
Registration will take place on the 26th of December from 09:00 am till 11:00 pm at the stadium. Riders are requested to arrive well in advance.
Here you will be able to:
Confirm the events you have entered
Hand in your signed indemnity form
Verify your CSA Racing License
Collect your race numbers
Collect team manager accreditation – only when a valid CSA Managers License is presented.
Event Guide:
Herewith the event guide which will give you all the information about the event.
Paarl Boxing Day Event Guide FINAL
Program:
The program of this prestigious event is just a click away.
Paarl Boxing Day Track Challenge Program 2023
How to enter:
Click on the link for entry and indemnity forms:
Boxing Day Entry & Indemnity Forms 2023
Please complete and email to [email protected] along with your proof of payment and signed indemnity.
May the best man/woman win!!