When:
2023-10-29 @ 8:00 am – 12:30 pm
2023-10-29T08:00:00+02:00
2023-10-29T12:30:00+02:00
Where:
Slent Road, Klipheuwel
Slent Rd
Malmesbury Farms, Cape Town, 7300
South Africa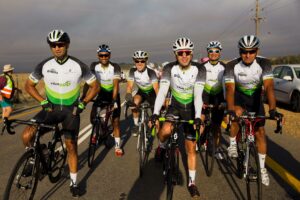 SLENT ROAD TEAM TIME TRIAL
Its that time of year again where we test the team tactics ahead of the Double Century.  Come and practice your ability to ride as a group by entering a team into the 60km team time trial.
Teams of 6 riders will tackle the circuit twice with the time for the team being recorded when the 4th rider crosses the finish line.
All riders must enter individually and Team Captains or a nominated member must email the Team Name and the names of all team members to [email protected]
Teams must consist of at least 4 riders and a maximum of 6.  If you would like to take part, but don't have a full team, please send an email to Sue who will try and match you up with suitable riders.
Entries will open on 4 October 2023 so get chatting to your friends and get those teams together.
Please click here for the starting times for Sunday
A Ladies competition will be dependent on the number of Ladies Teams entered.
Parking and Registration
Parking and registration will be on the corner of Vryguns and Slent Roads.  Registration will open at 6h30 for number collection.
Times
Start times will be advertised closer to the event.
Entry
Entry fees are R250 per person or R1500 for a team of 6 participants.
Online registration

 Event management, online entries and payments made possible by

Entries will open on Wednesday 4 October 2023 and close on Thursday 26 October at 15h00.  Don't forget to send your team lists through to [email protected] for start time allocations!!!!!
Problems with CSA Membership or Licenses?
See the page about CSA membership or licenses, or if you have problems with this during the registration process.
Cancellation Policy
The organisers of the Western Province Road League reserve the right to cancel the race should circumstances dictate.  If we cancel the race 7 or more days before the time (on or before 22 October 2023) we will refund those who have entered 60% of their race fee.  Anytime after that, we will refund 30% of your entry fee.  Alternatively, arrangements can be made with the registration team to carry the race fee over to the rescheduled event.  Should you request a refund, when the rescheduled event is announced, you will be required to pay the full amount again.
Entrants who cancel their entries 7 or more days before the time (on or before 22 October 2023) will be refunded 30% of their entry fee.  Cancellations in the 7 days prior to the event, or on the day itself, will not be refunded.