When:
2023-08-13 @ 8:00 am – 1:00 pm
2023-08-13T08:00:00+02:00
2023-08-13T13:00:00+02:00
Where:
Die Eike Saal
Slanghoek Rd
South Africa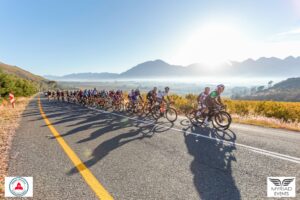 RACE UPDATE!!!
We are including a 40km Fun Ride as part of this event.  Details have been added below.  So if you're not sure about racing in the league, at least you can come and enjoy the beautiful Slanghoek Valley in a more relaxed ride, yet still with the full support of a league race.
We're back in the beautiful Slanghoek Valley for the final of our league races after we had to cancel the previous race.  Please note we have moved back to our previous venue at Eike Saal which is just before the Goudini Road intersection.
Entries have reopened for those who missed out first time round
The route is a mixture of rolling hills on the one side and a flat sometimes windy section called 'Waaihoek' on the other side. The race will cross the Breede River by using the low cement bridge. Please keep on checking social media should this area experience heavy rains.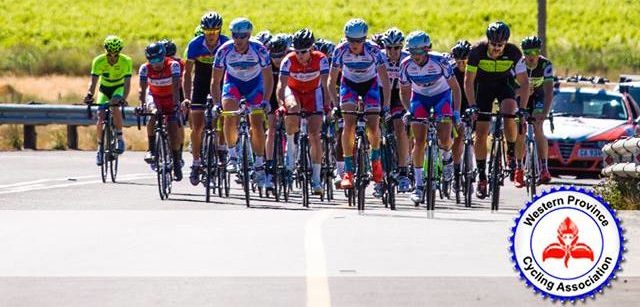 Registration and costs
The event forms part of the WP Road League for 2023.  Race entry costs R275 for senior riders and R175 for scholars and U19 Development.  Entry into the league for the race number and timing board will cost an additional R50.  For people wanting to join the fun ride, adults will pay R150 plus R50 for a race number and timing board and Under 15 up to U19 development will pay R75 plus R50 for a race number and timing board if they don't already have one.
Course and distances
Category 1 – 120 kms (3 x 40kms)
Category 2 – 80km (2 x 40kms)
Category 3 –  80 kms (2 x 40 kms)
Women – 80kms (2 x 40 kms)
Youth – u17,u19 – 80 kms (2 x 40kms)
Adult Open Category – 80kms (2 x 40kms)
Open Category – 40kms (1 x 40kms)
Start Times
CATEGORY 1 TO START AT 8.00AM – Other categories will be confirmed later
08h00 – Category 1 and u/19 men
08h10 – Category 2 – 80kms
08h20 – Category 3
08h30 – Women and u/19 Girls
08h35 – u/17,u/19 Development
08h35 – Open Category – 80km
08h35 – Open Category – 40km
Registration and Parking
Registration and Parking will be at Eike Saal (Hall) on the Slanghoek Road, just before the start area – Please look out for the parking signs.
Race Numbers and Tags
Anyone who has not previously entered the league at the other events will be charged an additional R50 for your race number and timing board
Entry
Entry will open on or before 17 May 2023 and close on Friday 11 August 2023 at 17h00. No late entries will be possible after this time.

 Event management, online entries and payments made possible by

Problems with CSA Membership or Licenses?
See the page about CSA membership or licenses, or if you have problems with this during the registration process.
Cancellation Policy
The organisers of the Western Province Road League reserve the right to cancel the race should circumstances dictate.  If we cancel the race 7 or more days before the time (on or before 6 August 2023) we will refund those who have entered 60% of their race fee.  Anytime after that, we will refund 30% of your entry fee.  Alternatively, arrangements can be made with the registration team to carry the race fee over to the rescheduled event.  Should you request a refund, when the rescheduled event is announced, you will be required to pay the full amount again.
Entrants who cancel their entries 7 or more days before the time (on or before 6 August 2023) will be refunded 30% of their entry fee.  Cancellations in the 7 days prior to the event, or on the day itself, will not be refunded.
This event has been vetted and accepted as a 94.7 seeding event.