Cappuccino and cycling go hand in hand. Just outside the quaint hamlet of Hermon we found a smooth piece of tar, a flattish out and back route which is conducive to safe cycling conditions.
The Du Vlei Farm Stall serves a mean cappuccino and with an ideal time trial course on their doorstep we decided to launch the Life Path Health Time Trial series as part of the WP Autumn and Winter League.
Participants ride 2.5 kilometres towards to just past Hermon where the first turnaround point is situated. Not yet time for a second breath. 
With the shouts of encouragement ringing in the ears as you pass the start on the way to Riebeeck Kasteel, the reality of time trialing sets in – you, your bike, and the clock – the race of truth. The road up to Riebeeck Kasteel is deceptively flat, sometimes downhill, and sometimes slightly uphill. Are you catching your "minute man" or are you being caught? Ban those thoughts from your mind and concentrate on riding the set distance as fast as you can.
The second turn comes at last, at the road into Riebeeck Kasteel – how fast can you cycle down a hill – you need to choose the right gear because the little bumps will kill your legs. Now is the time to catch your second breath. Time trailing to the best of your ability is an art and an integral part of improving your cycling ability.
Western Cape time trial champ, Rohan du Plooy (Lights by Linea) with a time of 21 minutes and 55 seconds blasted past the towns of Hermon and Riebeeck Kasteel to take the win in the inaugural Life Path Health from Timothy Jenkinson (Wannabees) and the current junior RSA time trial champ, Greg de Vink (Leadout).  Here are the first ten places for the field of over 60 cyclists who took part:
1. Rohan du Plooy – Lights by Linea 21.55
2. Tim Jenkinson – wannabees 22.15
3. Greg de Vink – Leadout 22.19 (Junior)
4. JP Jacobs – Aurecon 22.45 (sub Vet)
5. Jarrod Hattingh – Alfa Bodyworks 23.10
6. James Tennant- Lights by Linea 23.24
7. Byron Munton – Leadout 23.35
8. Wesley Willenburg – City Cycling Club 23.37
9. Kent Wrankmore – none 23.42
10. Charl van Wyk – Aurecon 23.45
Thanks to Mobii timing systems you can now follow the link on the left to see your finish line photo!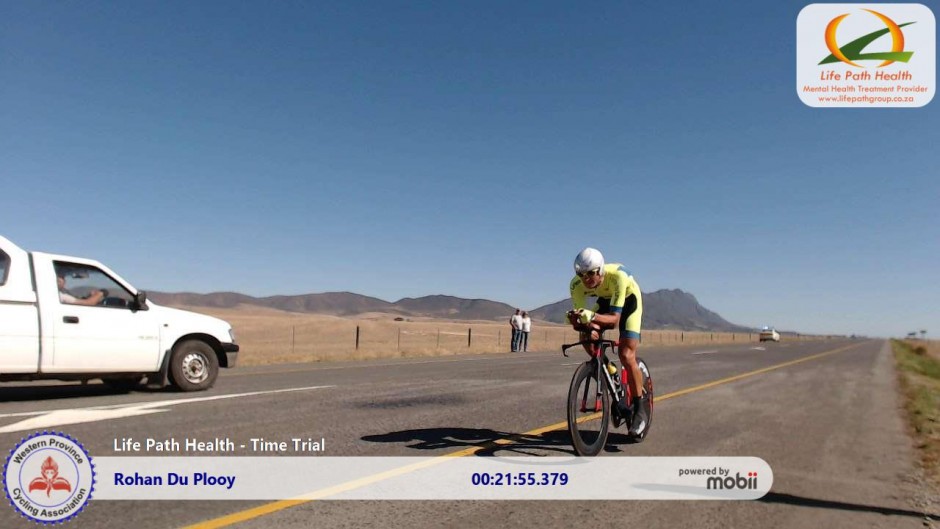 Results