KILLARNEY WITH A TWIST
With rain threatening throughout the weekend the WP Twitter account was working overtime – racing can take place in all conditions but we won't allow an event to take place if the safety of the cyclists are at risk. Killarney is closed to motorized traffic hence there was no hesitation in confirming that the event would take place even in the rain.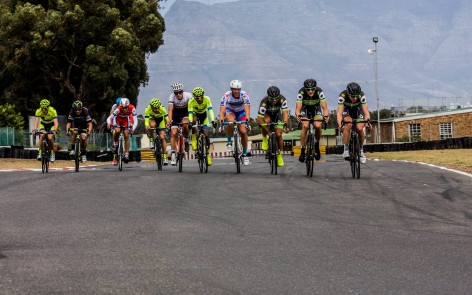 Can you corner , can you power out of a corner. Butt position, counter steering, taking an outside, inside, outside line are essential skills to ensure a smooth cornering technique. That little road that links the home straight to the bottom half of the track was a tester of cornering skills or the lack thereof.
The Category 3 bunch gingerly negotiated that corner for the first few laps with the bunch being stretched up the home straight and then recovering into the wind on the way down the back straight. The start venue at the track was to be very close to the 'link road' which would of ensured monitoring of slower riders who were going to impede the 'leading bunch' – a last minute change of venue meant that this important task was left unattended and there was a close call in the last lap. Tahier Sasman (Muhameddiyah CC) took the sprint from Mark vd Walt (Cycle Teknix) and Ashley Accom (Cedar CC)
Category 2 – the big bunch stayed together for the first half hour then Ahmed Khatieb and Guy le Ray-Cooke took the race by the scruff of the neck. With no coordinated chase they made their attack stick. Ahmed (Kinetic) powered his way into first place with Guy Barely a bike length away. Robin Harris (Cycles Direct) led the chasing bunch home in third place.
Category 1 – the pace was hot from the start with riders dropping off the back on every lap. 37 starters soon became 18 and from there it was whittled down to 13. The race was splintered into 3 small bunches going into the last 2 laps. Tim Jenkinson launched an attack on the lead group of four with the sound of the bell in their ears. Rohan du Plooy of Lights by Linea showed off his sprinting prowess by taking the sprint from Tim Jenkinson (Wannabees) and Robert du Preez a second back.
"All images are copyright of Cycling with double ST
CAT 1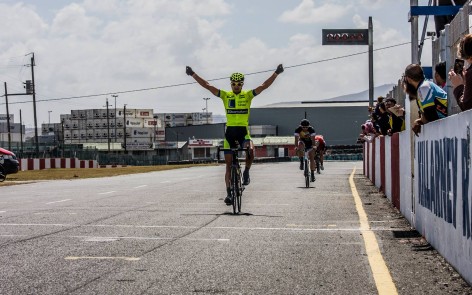 Rohan Du Plooy Lights by Linea
Tim Jenkinson
Robert Du Preez
Ian Lategan Stellenbosch Pro Cycling
Craig Boyes
Nol van Loon UCT Cycling Club
CAT 2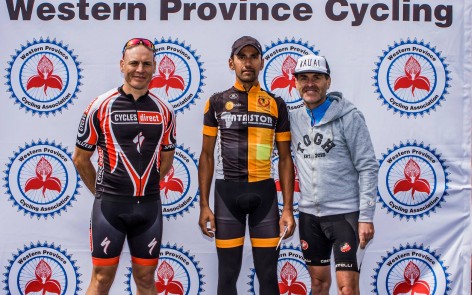 Ahmed Khatib Kinetic Cycling Club (RSA)
Guy Barely
Robin Harris Cycles Direct
CAT 3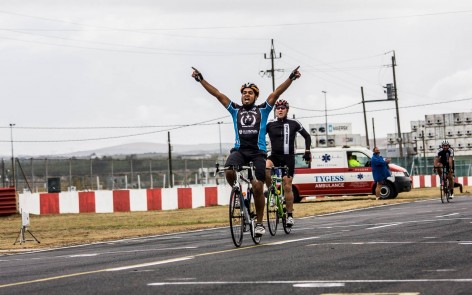 Tahier Sasman Team MC2
Mark vd Walt
Ashley Accom
Due to our involvement at the SA Track Championships in  Port Elizabeth we will be unable to attend to any questions or corrections to the results in a timely fashion.  Please do send us an email for any correction, but please be patient.