When:
2018-12-18 @ 6:30 pm – 2018-12-23 @ 5:30 pm
2018-12-18T18:30:00+02:00
2018-12-23T17:30:00+02:00
Where:
Faure Stadium, Paarl
Paarl
South Africa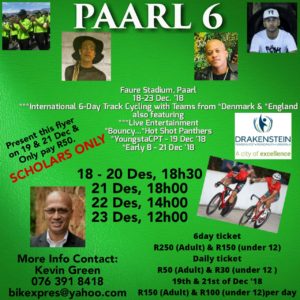 Paarl 6
The second edition of the International 6-Day Track Cycling event will once again take place at the Faure Stadium in Paarl. Event organizer, Kevin Green is highly excited with the confirmed 10 teams, consisting of riders from England, Denmark and South Africa. Teams are made up of 2 riders competing in different events over the 6 days period. This type of event is regarded as the ultimate endurance track cycling event in the world.
Program
A full packed program with great racing and entertainment can be found here:
Apart from the International racing, local riders also have the opportunity to come and experience what its like to race in such an event over 4 days, known as the 4 Day Omnium.
Under 11 – Veterans
Date: 18, 20, 22 & 23 December 2018
Day 1 – 3 Races
Day 2 – 3 Races
Day 3 – 6 Races
Day 4 – 3 Races
Points available per race – 10, 8, 6, 4 & 2.
Top 5 Riders per Category Podiums.
4-Day Omnium, Entry Fee – R350
15 Races…Over 4-Days…For 1 Final Podium
Entry Form
Riders wanting to compete in this prestigious event can download the entry form here:
Entertainment
The 2018 edition of PAARL 6 includes live performances by :
* YoungstaCPT *Early B*Al Petersen* Bouncy* Seth McKinnon* HotShotPanthers*Minstrel Group* Gerald Foster* Trvp Gvng SA* TheLeaks
Looking forward seeing you at the ultimate endurance track cycling event.
PAARL 6 is proudly associated with Drakenstein Municipality, Cape Winelands Sport Council, Cape Winelands Cycling and Department of Cultural Affairs & Sport.