When:
2023-03-18 @ 1:30 pm – 5:00 pm
2023-03-18T13:30:00+02:00
2023-03-18T17:00:00+02:00
Where:
Century City
Century City
Century City Criterium
The last of our criteriums takes place on Saturday 18 March at 14h00 in the afternoon.  Bring friends and family along to support you at Tigers Milk.  Series prize giving will take place after this event.
Parking Arrangements:
Parking for the cyclists will be at the parking area alongside the taxi rank on Century Way.  This is the same place that we start the annual Century City event each year.  There will be no parking closer to the venue due to road closures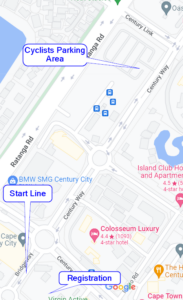 Race Bible
Registration and costs
Online registrations for this race will open on Monday 27 February 2023.
The costs for this race are:
| Race | Category | Cost |
| --- | --- | --- |
| 1 | U17 / U19 Dev / Come and Try | R130 |
| 2 | Inter Club Competition | R180 |
| 3 | Womens Championship | R200 |
| 4 | Mens Championship | R200 |
Categories and seeding
We will be having the following categories for the Criterium Championship:
Under 17 and Under 19 Development
Club riders
Women
Championship riders – including Under 19 and ALL teams
Course and Distances
The course is a circular route around the Century City Hotel and Conference Centre
Start Times and Durations
| Time | Activity | Duration |
| --- | --- | --- |
| 14h00 | U17 / U19 Development | 30 mins including final lap |
| 14h40 | Club Race | 40 mins including final lap |
| 15h30 | Ladies Race | 30 mins including final lap |
| 16h10 | Championship Race | 50 mins including final lap |
 Parking and Registration
Parking and registration will be on the open ground at Century City in the centre of the race circuit.  Please ensure that you are at the venue well in advance of your race as you will not be able to cross the race circuit while a race is underway.
Online registration

 Event management, online entries and payments made possible by

Entries close on Friday 17 March at 19h00.  No entries will be taken after this time.
Problems with CSA Membership or Licenses?
See the page about CSA membership or licenses, or if you have problems with this during the registration process.
Cancellation Policy
Due to the uncertainty surrounding the Covid-19 epidemic, the organisers of the Western Cape Championships reserve the right to cancel the race should circumstances dictate.  If we cancel the race 7 or more days before the time (on or before 11 March 2023) we will refund those who have entered 60% of their race fee.  Anytime after that, we will refund 30% of your entry fee.  Alternatively, arrangements can be made with the registration team to carry the race fee over to the rescheduled event.  Should you request a refund, when the rescheduled event is announced, you will be required to pay the full amount again.
Entrants who cancel their entries 7 or more days before the time (on or before 11 March 2023) will be refunded 30% of their entry fee.  Cancellations in the 7 days prior to the event, or on the day itself, will not be refunded.