On Sunday 9 April, the Killarney Race Track played host to vehicles of a different kind – ones that run on pedal power! Local cycling club, The Outriders, together with Just Property and Western Province Cycling Association (WPCA), celebrated a festival of cycling which had something for everyone, from kids as young as two years old to the elites who were out to score points on the League board.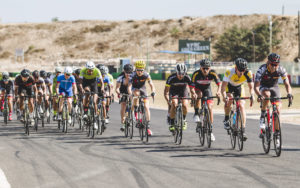 The Category 2 riders racing up the finishing straight. Picture credit: Double ST
The events included circuit racing for the serious riders (split into category 1, 2 and 3), Juniors and Schools racing, a Criterium, as well as an inter-club, ladies only, and kids' races, the last three providing non-licenced riders the opportunity to experience the thrill of racing at Killarney. The Just Property kids races took place on the adjacent karting track, with the top three in each age group receiving medals. All participants went home with a certificate.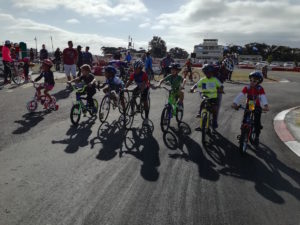 The day's events culminated in a 20-minute criterium. Designed for maximum spectator value, the course took the riders on a technical and tricky route through the pits. "I loved the crit format", Category 1 winner Martin Fryer enthused. "It was quite nerve-wrecking, but it was technical, short, interesting, and great for the public – we should have more races like this in the Western Cape."
Killarney provided the perfect venue, with its smooth, car-free surface, as well as being safe and spectator-friendly. Organiser of the event and Chairman of the Outriders was thrilled with the success of the Festival, "It was a fun and family-friendly event. We really wanted to provide something for every level of cyclist and it's safe to say we succeeded in doing that. However, the event couldn't have been pulled off without the support and commitment of the club members."
The Outriders meet every Saturday morning outside Planet Fitness in Parklands and encourage riders of all levels to come and join in their rides. Visit www.theoutriders.co.za for more about the club and the various ride times on offer.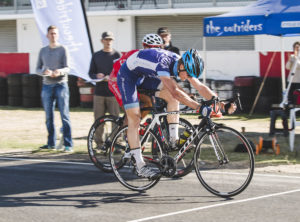 Martin Fryer took the win in the Criterium Category 1 in a nail-biting finishing, just pipping Jayde Julius to the post. Picture credit: Double ST
Provisional Results (Awaiting Confirmation From WPCA Timing)
Circuit Races
Category 1
Ivan Venter
Nicol Carstens
Jarryd Hattingh
Category 2
Oswin Booysen
Wayde Theunissen
Tyrone Philander
Category 3
Michael David
Chris Maurer
Esrick Bull
Ladies
Carla Swart
Shelna Neethling
Simone Faullman
Criteriums
Category 1
Martin Fryer
Jayde Julius
Alex Heward
Category 2
Kris Coetzee
Tyrone Philander
Wayne Southgate
Category 3
Adam Yeld
Ashley Accom
James Burgess