Race Report – Sacks Circle
The morning broke with the queue for registration stretching over the horizon – riders were processed one by one and we were able to start on time.


WP administrators are of the opinion that 90% of cyclists who want to take part in the Western Province Autumn and Winter League are now registered on the Mobii system and long queues like this will be a thing of the past. It is all credit to the hardworking volunteers who processed the queue as quickly as possible. It is vital that riders register online well before the cut off for the weekend race so that any pre-register issues are sorted out before the event and not at the registration tables.
Category 2 and Category 3
Category 2 is a very competitive competition and the breeding ground for those riders who have ambitions to rub shoulders with the cream of the crop in Cat 1. No quarter is asked for and no quarter is given.
Category 3 is by no means a fun ride – it is a race. Somewhat slower than Cat 2 but nonetheless hardcore. Infinity Cycling Club is a mere 3 days old as an affiliated club of the WP but his did not stop their rider Mahood Kariel winning the Category 3 race ahead of Cycle Teknix CC's Jonathan Weltman and City CC's John Martin.
Category 2's pace was just too high for any breakaway to succeed and spectators on the line were treated to sprinting from the top drawer by Robin Harris of Cycles Direct CC and Oswin Booysens of Team Powerbar who jostled for first. Robin powered away in the last few metres to take the win from Oswin and Zaid Harris of Kinetic CC.
| | |
| --- | --- |
| Robin Harris Cycles Direct), Oswin Booysens (Siphiwo) and Zaid Harris (Kinetic) | Mahood Kariel (Infinity), Jonathan Weltman (Cycle Teknix) and John Martin (City) |
Category 1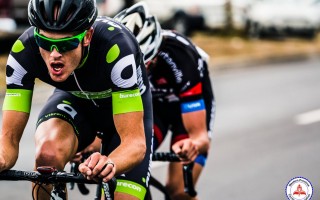 A large field went to the line in almost perfect cycling conditions. Halfway through the 20 lap race Theuns vd Bank (Team Giant) and JP Jacobs (Team Aurecon) broke away and started to build a considerable lead over a bunch that seemed reluctant to chase.
Then disaster struck outside Consol Glass with Theuns suffering a puncture. This brought back JP to the bunch and racing settled down till the last 4 laps when a bunch of 10 riders split off the front and set a blistering pace splitting the chasing peloton into two. The bunch sprint went to the line with Evan Carstens (Team Giant) taking it from Brandon Christians (Team Alfa Bodyworks) with Nicol Carstens (Lights by Linea) in third.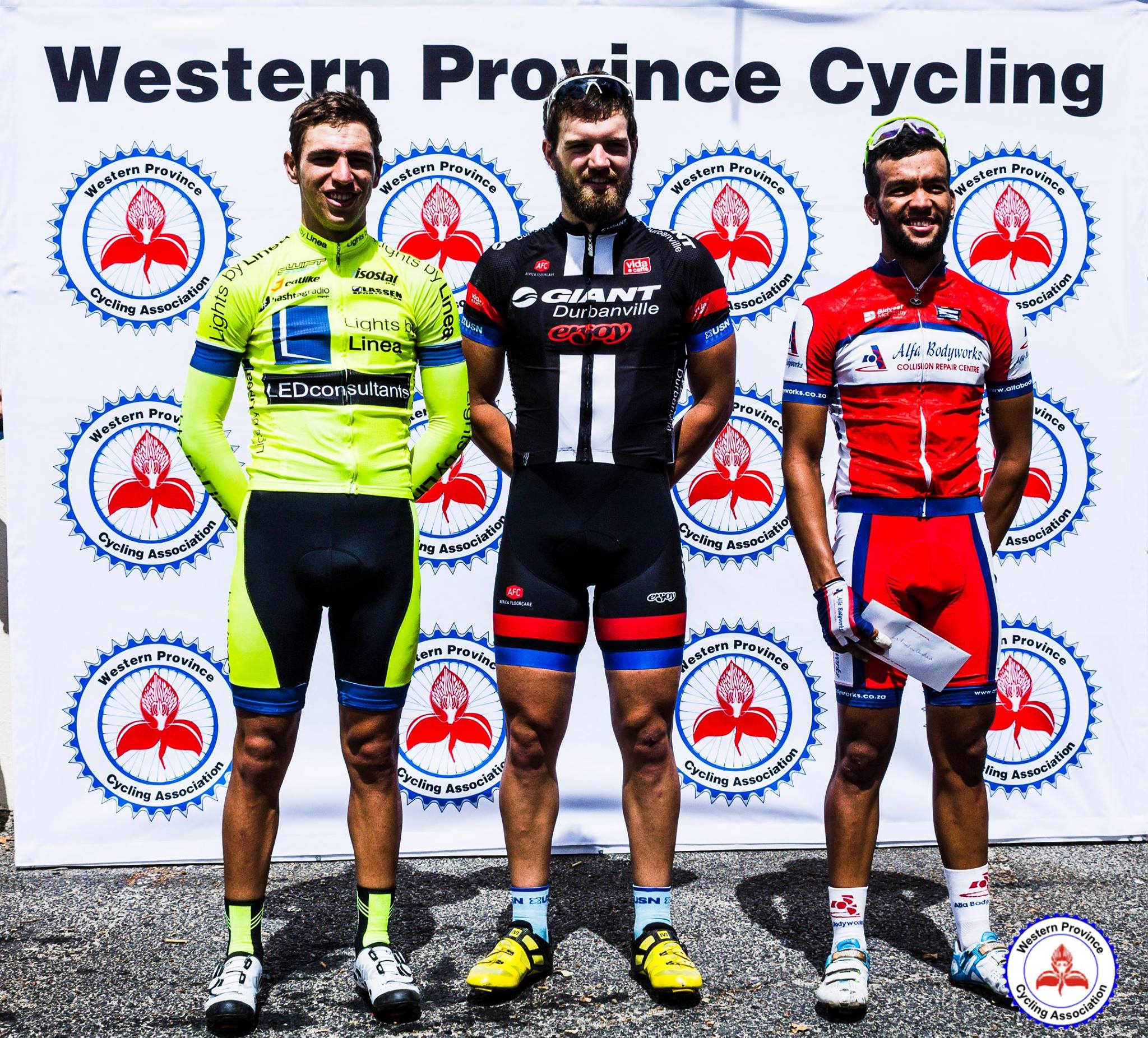 Results
Herewith the electronic results. If you do not see your name on the list, or if you think your time is wrong, send us an email at [email protected] and we will look into the matter.