When:
2023-07-21 @ 7:00 pm – 10:00 pm
2023-07-21T19:00:00+02:00
2023-07-21T22:00:00+02:00
Where:
Bellville velodrome
Carl Cronje Dr
Eikenbosch, Cape Town, 7530
South Africa

Track racing on Friday, 21 July 2023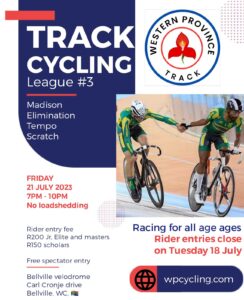 The madison will be our event counting towards club and team points. Riders need to be on the same club and team. It is an open event for u17 and older for men and women.
WP track league 21 July 2023 program.
Entry fee
R200 – Junior and older
R150  – u11, u13, u15 and u17 scholars
***  Free spectator entry ***
WPCA WAIVER AND CONSENT FORMS FOR TRACK (needs to be completed)
NOTE THAT WE ARE SAFE FOR LOADSHEDDING, BUT NEED TO BE DONE BY 10pm.
PRE-ENTRY only by Eft to Wp cycling. Entries close on Tuesday 18 July 2023
How to enter: Mail proof of payment, name and category to [email protected]
Bank details:
Western Province cycling association
Standard Bank
Account type: Current account
Account Number 20 095 798 8
Universal branch Number: 051 001
Proof of payment: [email protected]
NUMBER COLLECTION and SIGN-ON close at 6.30pm on Friday 21 July 2023
Pre-entry only, no late entries accepted.
Indemnity and waiver to be handed in before number will be issued.
All riders must display an active CSA membership card (soft copy on phone or print-out). Membership numbers alone are not acceptable – a copy of active membership is required.
MANAGERS BRIEFING AT 6.45PM
RACING STARTS AT 7PM
Riders need to bring their numbers from league 1. The same number is used for the whole season. Lost numbers can be replaced at a cost of R100 each.