When:
2023-10-21 @ 10:00 am – 2023-10-22 @ 6:00 pm
2023-10-21T10:00:00+02:00
2023-10-22T18:00:00+02:00
Where:
Bellville Velodrome
Carl Cronje Dr
Bellville, Cape Town, 7530
South Africa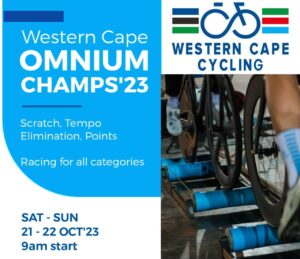 WC Track is hosting, a very first, Omnium Track Champs from 21-22 October 2023 at the Bellville Velodrome, Cape Town.
We just hosted the National Omnium champs where riders competed for the top spots in the various age categories. The WC Omnium champs won't be nothing less than fast, hard paced racing.
Categories
The event will be run according to the categories listed below. Despite how the entry system will capture your registration, the final awards will be based to these categories alone.
Omnium Categories
Elite Men
Junior Men
Masters Men 35-49
Masters Men 50+
Junior Women
Elite Women
Masters Women
U/17 Boys
U/17 Girls
U/15 Boys
U/15 Girls
U/13 Boys
U/13 Girls
U/11 Boys
U/11 Girls
* Women categories might be combined if not enough entries. Points will be awarded separately. Awards will be determined based on the final points. For example, the 3 Junior Women with the 3 highest points in the final, overall points will podium.
Event format
Day 1 is set aside for the Elite, Junior and U17 Boys only. Day 2 will see the scholars and Master's categories competing.
Event entry & Registration
Only online entries – Closing date for entries is 18 October 23 – NO late entries!
Elites/Jun/Masters – R350
Scholars – R300
Registration is on 21 October from 8h00 and again on Sunday from 8h00. Registration closes at 9:30am on 22 October.
Program
Here's the link for the program: WC OMNIUM CHAMPS PROGRAM 2023
Managers meeting
Managers meeting is on Saturday 21 October at 8h00 in the Athletics VIP room.
Online registration

 Event management, online entries and payments made possible by