When:
2023-06-11 @ 8:00 am – 1:00 pm
2023-06-11T08:00:00+02:00
2023-06-11T13:00:00+02:00
Where:
Perdeberg Cellars
Vryguns Rd
South Africa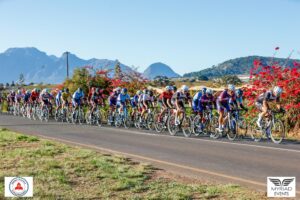 Our final race of the league series will be at Perdeberg Cellars.  Bring the family along for the season closing event.  The restaurant at Perdeberg make the most amazing pizza's, and the wine tasting venue will be open. So plenty to do after the race.
Event Hand Book
The event handbook will be made available closer to the event.
Please familiarise yourself with the details contained therein before coming to the event.
Registration and costs
The event forms part of the WP Road League for 2023.  Entry into the league for the race number and timing board will cost an additional R50
Course and Distances:
Category 1 and u/19 men – 150 km
Category 2 – 100 km
Category 3 – 100 km
Women and u/19 women – 100 km
Youth – Boys – u/15, u/17 – 50 km
Youth – Girls u/17 – 50km
Open – 50km
Start times:
08h00 – Category 1 and u/19 men
08h10 – Category 2
08h20 – Category 3
08h22 – Women and u/19 women
08h30 – u/15, u/17, u/19 Development and Open category
Should there be more than 12 women entering the event they will have a separate race
Parking:
Parking will be at Eike Saal
Online registration
Entries will open on or before Wednesday 17 May 2023 and close 17h00 on Friday 9 June 2023.

 Event management, online entries and payments made possible by

Problems with CSA Membership or Licenses?
See the page about CSA membership or licenses, or if you have problems with this during the registration process.
Cancellation Policy
The organisers of the Western Province Road League reserve the right to cancel the race should circumstances dictate.  If we cancel the race 7 or more days before the time (on or before 4 June 2023) we will refund those who have entered 60% of their race fee.  Anytime after that, we will refund 30% of your entry fee.  Alternatively, arrangements can be made with the registration team to carry the race fee over to the rescheduled event.  Should you request a refund, when the rescheduled event is announced, you will be required to pay the full amount again.
Entrants who cancel their entries 7 or more days before the time (on or before 4 June 2023) will be refunded 30% of their entry fee.  Cancellations in the 7 days prior to the event, or on the day itself, will not be refunded.
General queries
Any queries relating to the event can directed to [email protected] or [email protected]
This event has been vetted and approved at a 94.7 seeding event