When:
2022-05-01 @ 1:30 pm – 5:00 pm
2022-05-01T13:30:00+02:00
2022-05-01T17:00:00+02:00
Where:
Asla Park
Asla Cres
Somerset West, Cape Town, 7140
South Africa

Asla Park Criterium
The Asla Park Criterium takes place on Sunday 1 May at 14h00 in the afternoon.  It's going to be fast, it's going to be furious and it's going to be a whole load of fun!  Bring friends and family along to support you!
Race Bible
Please click on this link for the full race bible
COVID Regulations
We are still required to adhere to the COVID-19 regulations that have been published by the Department of Sport and Culture.  To this end we require that all cyclists maintain social distancing while not racing.  The use of masks prior to the start of the race is compulsory.  You will be required to have your temperature taken at the entrance to the Registration Venue.  This needs to be done before anything else upon arrival at the venue.
It is imperative that we adhere to the social distancing protocols.  We are looking at ways to work within the bounds laid down by CSA and the Department of Sport and Culture to ensure that we can hold a successful event.
Registration and costs
Online registrations for this race will open on Wednesday 13 April 2022.
The costs for this race are:
| Category | Cost |
| --- | --- |
| Elites | R250 |
| U/19 Men | R250 |
| Veterans 35 – 49 | R250 |
| Masters 50+ | R250 |
| Women (Including U19's) | R250 |
| U/17 & U/19 Development | R150 |
Categories and seeding
The Criterium Series will follow an age-based categorisation.  Elites and Under 19's will race together as will the Veterans and Masters.  Women will have their own race, including U19 and U17 girls.  The Under 17's and U19 development riders will race together.
Participants must ride the same category for all 3 races in this series.
Course and Distances
The course is a figure of 8 route around at Asla Park.
Start Times and Durations
| Time | Activity | Duration |
| --- | --- | --- |
| 14h00 | U17 / U19 Development | 30 mins + 1 lap |
| 14h40 | ladies | 30 mins + 1 lap |
| 15h20 | Vets and Masters | 40 mins + 1 lap |
| 16h10 | Elites and U/19's | 50 mins + 1 lap |
 Parking and Registration
Parking will be to the left of the traffic circle upon entering the Asla Park premises.  See map below: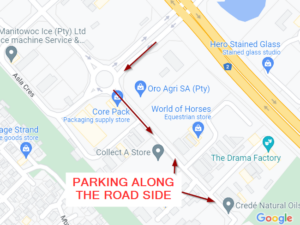 Registration will be on the open ground at Asla Park in the centre of the race circuit.  Please ensure that you are at the venue well in advance of your race as you will not be able to cross the race circuit while a race is underway.
Please note that Asla Park is privately owned property and as such have strict security requirements in place.  Each person entering the venue will have to show their drivers license for scanning.  Refusal to do so will mean you cannot enter the premises.
Online registration

 Event management, online entries and payments made possible by

Entries close on Thursday 28 April 2022 at 21h00.  No entries will be taken after this time.
Problems with CSA Membership or Licenses?
See the page about CSA membership or licenses, or if you have problems with this during the registration process.
Cancellation Policy
Due to the uncertainty surrounding the Covid-19 epidemic, the organisers of the Western Cape Championships reserve the right to cancel the race should circumstances dictate.  If we cancel the race 7 or more days before the time (on or before 27 March 2022) we will refund those who have entered 60% of their race fee.  Anytime after that, we will refund 30% of your entry fee.  Alternatively, arrangements can be made with the registration team to carry the race fee over to the rescheduled event.  Should you request a refund, when the rescheduled event is announced, you will be required to pay the full amount again.
Entrants who cancel their entries 7 or more days before the time (on or before 27 March 2022) will be refunded 30% of their entry fee.  Cancellations in the 7 days prior to the event, or on the day itself, will not be refunded.