When:
2020-09-20 @ 8:00 am – 9:00 pm
2020-09-20T08:00:00+02:00
2020-09-20T21:00:00+02:00
Where:
Die Eike Restaurant and Coffee
Wyzersdrift Road
Rawsonville, 6845
South Africa

Due to adverse weather conditions this race was regrettably cancelled on Sunday 13 September at short notice. WP Cycling take the safety of our participants very seriously and after consultation with our safety officer, the race officials, regional health and safety representatives and race organisers we decided to call off the race.
THIS RACE HAS NOW BEEN RESCHEDULED FOR SUNDAY 20 SEPTEMBER 2020!!!
All existing entries will be carried forward and we are reopening entries for the ladies and 80km races.  Entries are limited and on a first-come, first-serve basis. This opportunity to enter these races will close at 12h00 (noon) on Friday 18 September or once full. Substitutions are also possible. Refer to the event details below.
After months of lock-down WP Cycling will be hosting the first road race post lock down this September and we are hoping that it will be a great success.
We are trying to host a safe event, but that comes at a bit of a cost to all concerned.  There are a lot of restrictions that have been imposed insofar as numbers of participants, staff and support that we are allowed to have at an event.  To accommodate this, we unfortunately cannot allow any spectators.  There will also be strict controls in place regarding registration, taking of temperatures of ALL people at the event and details of this will be sent to each participant in an email once registration has closed.
We can only cater for u/19 and older at this race.
The route is a mixture of rolling hills on the one side and a flat sometimes windy section called 'Waaihoek' on the other side. The race will cross the Breede River by using the low cement bridge. Please keep on checking social media should this area experience heavy rains.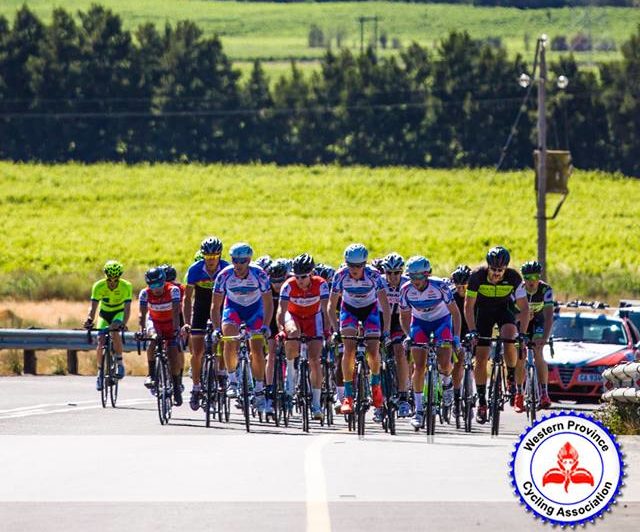 Registration and costs
All registrations have to be completed and paid by Wednesday, 9 September, because we need to perform a risk analysis and plan the start groups. These restrictions are needed to allow us to host a race while meeting the various Covid-19 restrictions and regulations.
| Entry Type | Price |
| --- | --- |
| Online entries (before Wednesday midnight) | R250 |
Please note: No late entries can be accepted! No entry on the day!
All participants will receive a confirmation email by Friday 11 September to indicate their start group and start times. Each participant will also be assigned to either the blue or black registration area. On the day, follow the coloured arrows leading to the coloured gazebo.
Course and distances
We plan up to 4 start groups depending on the entries received by Wednesday, 9 September. The provisional distances are as follows;
Teams – 135 km (3 x 45km) – Pre-approved members only (No more entries available)
Long –  120 km (3 x 40 km) – Up to 2 start groups  (No more entries available)
Medium –  80 km (2 x 40 km) – 2 start groups of no more that 50 riders
Women – 80 km (2 x 40 km)
Long and medium course
Team course

Start Times
We request that all riders approach the venue and registration area 30 mins before the start of their races due to the new Covid-19 regulations. We are not allowed to have more that 50 persons in any one area.
07h00 – Registration open for Teams and Start Group 1
08h00 – Team group start
08h15 – Long group start
08h15 – Registration open for Medium and Women
09h25 (approx) – Medium Group 1
09h35 (approx) – Women group start
09h45 (approx) – Medium Group 2
Registration and Parking
Parking for Teams will be at Die Eike Restaurant, while the parking for the rest of the participants will be at EikeSaal and the Community College about 400 metres from Die Eike on the left hand side of the road
Registration awill be at Die Eike Restaurant and Coffee Shop. There will be 2 separate registration areas. Please use the area assigned to your start group.
Blue area – Teams and Start Group 2
Black area – Start Groups 1 and 3
PLEASE NOTE THAT WE USE THE MOBII TIMING SYSTEM TO TIME OUR RACES.  IF YOU DO NOT HAVE A MOBII TIMING CHIP YOU WILL HAVE TO PURCHASE ONE WITH YOUR RACE ENTRY
Substitutions
Substitutions for any category is possible by means of the original participant sending us an email to [email protected], providing your name and the name and contact details of the person who will substitute you. We will make contact with the new participant. A R50 fee will be payable by them via our online payment system. The fee for the original entry has to be settled between the parties.
Entry
The Team and Long distance (120km) are filled and we are unable to accommodate more riders. Sorry! The number of Medium entries is also very limited; first come first serve.