Heritage Day Gp, Bellville velodrome
24 Sep 2023 from 10am to 2pm
Sprint tournament program – road to the finals – Heritage Day GP
Start list – Heritage Day GP 2023
Important Notice – Your Wp track league number is your number for this event and for the whole year. Riders to bring their Wp track league numbers to this event.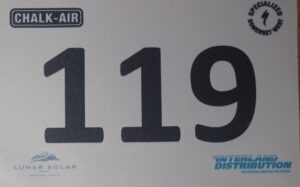 Visiting riders will be issued new numbers. Please to be returned at end of event.
Riders need an active and valid CSA membership to participate. Day licenses need to be purchased at R50 each if riders fail to prove active membership.
Sign-on required for all riders. Registration open from 9 to 9.45am.
Prize giving will be at the end of the event. Wp track good governance requires Eft payment of prize money and we'll arrange this with the winners.
There is a R20 spectator fee. We strongly recommend purchasing  tickets on Quicket to avoid queues.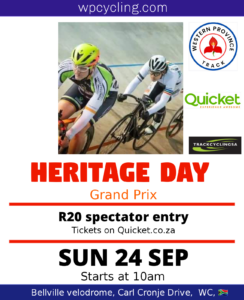 Food and drinks for sale at event:
Barista coffee
Pancakes
Koop and Kou Halaal foods