The "Back to the 80s" event was held at Bellville velodrome on 20 May 2023.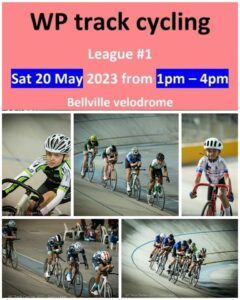 There was significant growth on last year with more than 50 riders entering. The event is called "Back to the 80s" referring to gear ratios. Riders were restricted to a maximum ratio of 90-inch. It meant that riders had to use high cadence to turn up the speed.
The longest lap race tested the track stand skills of riders and was fun to watch (see video in link) 
The club competition included a team sprint. Team DSV leads the team competition after round 1.
Carl Bonthuys (CTC) leads Cat A.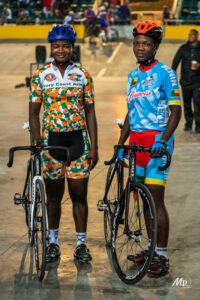 We also had riders from Benin and Ivory Coast competing in the elite women's competition. They are part of the World Cycling Centre – Africa.
Here are the full results: WPCA track league results and standings – 20 May 23
Berty Mostert (WP track commission) kindly donated a Ciovita bag to be awarded to the most positive ride of the day. This went to Nuhaa Kamaldien (u13 Girls). This was her first event and she won her second race of the night by attacking the U11 boys and staying away.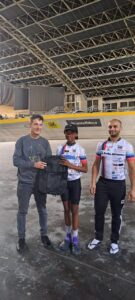 Jaco Scholtz (WP track), Nuhaa Kamaldien and Ishmail Clarke (Active Bodies Sport development)
Active Bodies brought 16 riders to the track and there are more in the pipeline for the future. Complements to the work done by Glen Bonthuys (WPCA development) and Abbas Harris (Active Bodies)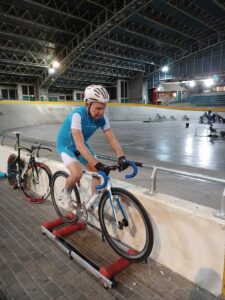 John Moss (City Cycling Club)
Track cycling is an inclusive sport and events are supported by friends and family. The youngest rider at this event was 6 years old. John Moss at UCI category 70+ still took points home  in the veterans category.
The next event is on Friday 23 June'23 at Bellville velodrome.