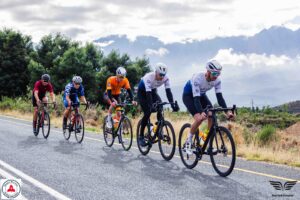 The final race of the 2023 WP League took place in Slanghoek, and what a glorious day for racing we had.
In the Category 1 race, Josh Louw (ASAP World) and Giovanni Pantelone (WineLands Racing) broke away and held a 4 minute gap over the rest of the bunch for almost the full 120km.  Josh went on to pip Giovanni by less than half a second, with Carl Bonthuys (CTC) coming third.
Category 2 saw 3 guys racing for the win.  Ryno Van Wyk just edged out Dewald Nienaber and Philipp Schmid on the line.
We had a 10-man bunch sprint in the Category 3 with Marius Smith taking the honours.  Mark Dingwall finished an excellent league season with second and Willie Potgieter, in his first league race since crashing out at Killarney, in third.
The women's race was a close finish between Layla Schwellnus and Michaela Surtees taking first and second respectively.  Lize Cornelius rounded out the podium.
Faraz Khatieb won the U17 / U19 Development race with Dean Wolley taking second and Othando Sitoza in third.
Full race results can be seen by clicking the link below.
Click here to view the online results.