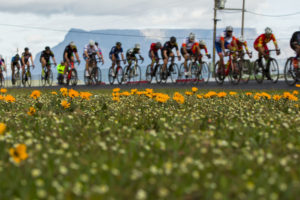 WP Cycling Road League Plans and Outlook for 2020
The Western Province Cycling Association (WPCA), affiliated under Cycling South Africa (CSA) is proud to announce the launch of their new league format for the 2020 season.  WPCA invites new cyclists and the 2019 league riders to participate in the 2020 league season. The aim is to improve the standard of competitive cycling in the region and to prepare aspiring riders for international participation.
The WP season opener for the year is the Century City Criterium hosted by the City Cycling Club on 1 March 2020.  This is a fun race as part of the annual Century City Sports Festival. Entry is free and all are welcome to join us.  Race numbers for the 2020 league will also be available for collection on the day, whether you are racing or not.
Century City Crit is  followed by the Slent Road Team Time Trial on 22 March.  Get your friends together and enter a team of 6 to compete for top honours.  Team time is taken on the 4th team member over the line.
A change up this year is that instead of the traditional format of 10-12 races over the period April to September, the WPCA will be hosting 3 mini leagues in the form of 3 races each – an Autumn Series in April, a Circuit Series in May and a Winter Series in July.
For 2020, racing will be divided into 4 different categories where the same standard of cyclists compete against each other without taking age into account. Category 1 is for the top racing cyclists from the age of 17 and older, whilst Category 2 is a slight step down in standard from Category 1 and is aimed at talented cyclists also from the age of 17 and older.  However, this year we are allowing under 17 riders to ride Cat 2, upon application to WPCycling. This is to afford talented youngsters to mix it with the guys that have been at the top, to learn from them and to test themselves. Please note that this is on application only and only cyclists that are deemed proficient to compete at this level will be accepted. Once accepted to Cat 2, these youngsters will remain there for the year, unless it is a scholar specific race that they enter without the opportunity to race Cat 2
Category 3 is for the cyclists who love to get themselves out on the road in racing conditions but don't have as much time to train, due to work and family commitments.  Masters 50+ can also fall into this category.
Should we have enough ladies entering, separate women's races will be held.  If not, the ladies will fall in with the Category 3 races.
Category 4 is the newly introduced category that caters for adults that are novices to racing.  This is an introduction to racing at its best.
The points system for all categories will be similar to previous years, however with the introduction of the mini leagues there is no opportunity to "drop" a race.  
Autumn Series: 5 April (Bon Mella, Durbanville), 19 April (Red Hill, Simonstown) and 26 April (Windmeul, Perdeberg Cellars, Paarl).
Circuit Series: 10 May (Killarney Raceway, Milnerton), 17 May (Rondeberg, Atlantis), and 31 May (Fisantekraal).
Winter Series: 7 June (Perdeberg Cellars, Paarl), 14 June (Lady Loch, Wellington) and 21 June (Slanghoek, Rawsonville).
Applications for youngsters U17 to ride Cat 2 are to be send to [email protected]   Please don't forget to supply justification for this promotion
More details of each event will be posted online closer to the event date.  For further information contact [email protected] or [email protected]