We saw a cold and gloomy start to the day in Worcester but we were lucky enough for the rain to stay away.  Racing kicked off with a neutral zone through the industrial area of the town before crossing the N1, where racing got under way.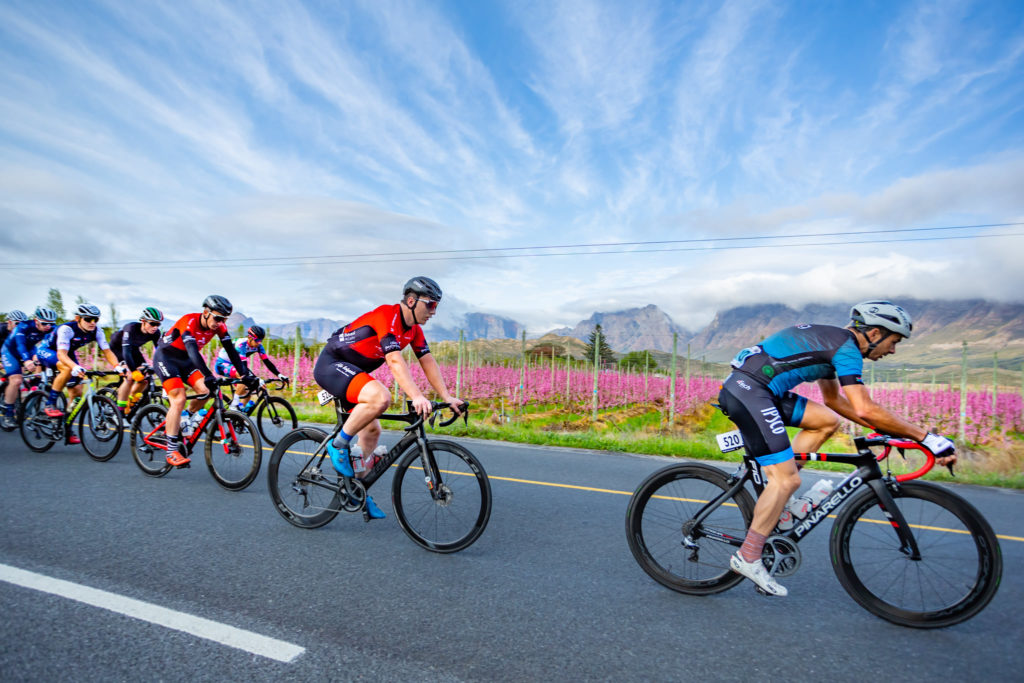 125km of cut and thrust racing saw a break away forming which was eventually whittled down to 2 men.  A sprint to the finish saw David Garrett take the Category 1 honours on the line.
The wind played its part as it usually does in Worcester but we saw a sole breakaway in category 2 where Matthew Kieser raced to the take line honours.
Category 3 was a bunch finish with Delano Rasmus managing to get over the line slightly ahead of the rest.
Here's the final results of today's racing.  Please report any errors or omissions to [email protected]. Note that the neutral zone was included in your race duration time.
Category 1 & U/19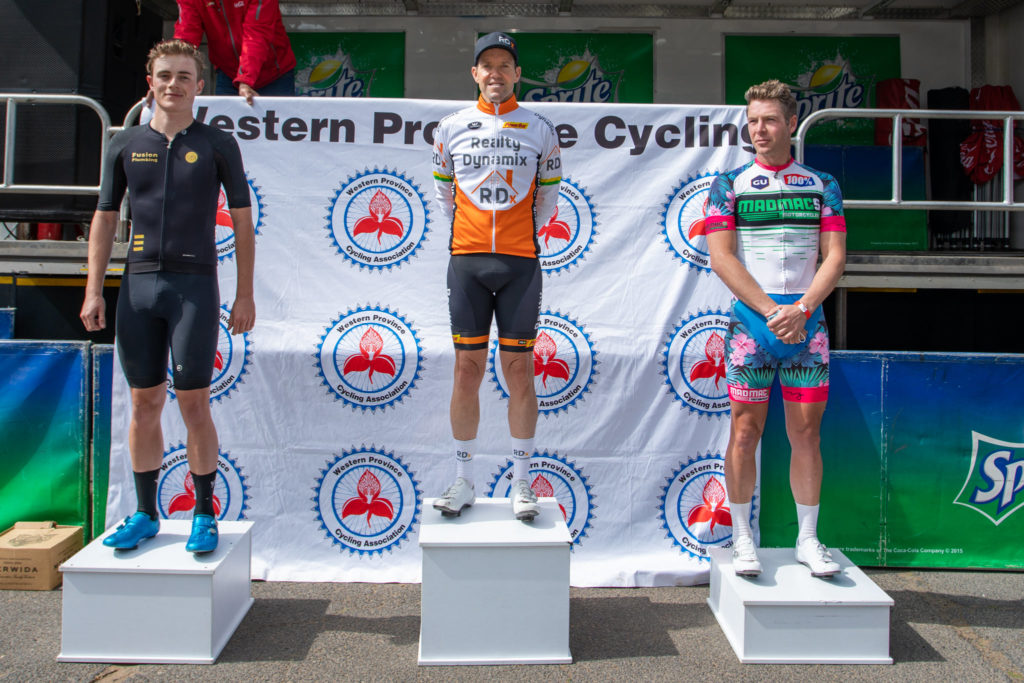 TourDeWorcester – Sun Sep 12 2021 05:30:01 GMT+0200 (South Africa Standard Time)
Pos.
Name
Surname
No.
Category
Time
1
David
Garret
530
League Category 1
3:12:05.875
2
De Klerk
Jacobs
551
League Category 1
3:12:05.963
3
Alex
Heward
547
League Category 1
3:13:28.940
4
Zander
Du preez
521
League Category 1
3:13:29.403
5
Francois
Hofmeyr
779
League U/19 Men
3:13:35.402
6
Josh
Gray
544
League Category 1
3:16:40.706
7
Brandon
Christians
513
League Category 1
3:16:41.121
8
Hendrik
Kruger
554
League Category 1
3:17:29.353
9
Johannes
Trotzky
581
League Category 1
3:17:29.453
10
Jarret
West
592
League Category 1
3:17:29.698
11
Robin
Harris
545
League Category 1
3:17:30.059
12
Callan
Sexton
594
League Category 1
3:17:30.092
13
Jaco
Davel
520
League Category 1
3:17:30.437
14
Hanro
Geldenhuys
531
League Category 1
3:17:30.715
15
Andrew
Elliott
522
League Category 1
3:17:30.729
16
Jean Pierre
Weideman
586
League Category 1
3:17:30.770
17
Andreas
Studer
579
League Category 1
3:17:30.778
18
Louis
Strijdom
577
League Category 1
3:17:30.968
19
Yaaseen
Davis
784
Open – 125km
3:17:30.970
20
Tshebeletso
Makgonye
562
League Category 1
3:17:31.122
21
Malcolm
Isaacs
550
League Category 1
3:17:31.257
22
Jaco
Venter
584
League Category 1
3:17:31.670
23
Etnard
Louw
560
League Category 1
3:17:33.684
24
Lloyd
Weitz
587
League Category 1
3:17:35.534
25
Hlumelo
Ngqobongwana
568
League Category 1
3:17:35.660
26
Zander
Kruger
555
League Category 1
3:17:48.856
27
Theuns
van der Bank
583
League Category 1
3:17:57.668
28
John
Horn
548
League Category 1
3:20:18.705
29
Zaheer
Rahman
570
League Category 1
3:20:25.719
30
Kobus
Cronje
515
League Category 1
3:21:16.240
31
Tyrone
Renwick
572
League Category 1
3:21:18.302
32
Christopher
Engel
523
League Category 1
3:21:19.450
33
Abdalrahman
Cader
512
League Category 1
3:21:19.628
34
Paul-Dean
Rorich
595
League Category 1
3:21:23.775
35
Neil
Timm
580
League Category 1
3:21:24.095
36
Alexander
Parsons
569
League Category 1
3:26:35.313
37
Wilco
Strydom
578
League Category 1
3:26:42.341
38
Ongeziwe
Tyapa
582
League Category 1
3:27:24.607
39
Loyiso
Fulu
529
League Category 1
3:28:36.933
40
Stefano
Marcia
563
League Category 1
3:28:37.356
41
Rudie
Kellerman
552
League Category 1
3:29:15.210
42
Shane
Rayners
571
League Category 1
3:29:15.364
43
Jonathan
Hartzenberg
546
League Category 1
3:35:12.018
44
Wian
Coetzer
514
League Category 1
3:40:19.286
45
Lethokuhle
Mbuli
564
League Category 1
3:41:58.959
46
Othando
Sitoza
575
League Category 1
3:41:59.259
47
Charel
Uys
596
League Category 1
3:49:59.328
48
Tyron
Oliphant
780
League U/19 Men
3:53:17.165
49
Junior
Benya
593
League Category 1
3:59:13.815
50
Xander
Van Dyk
781
League U/19 Men
4:07:14.854
Category 2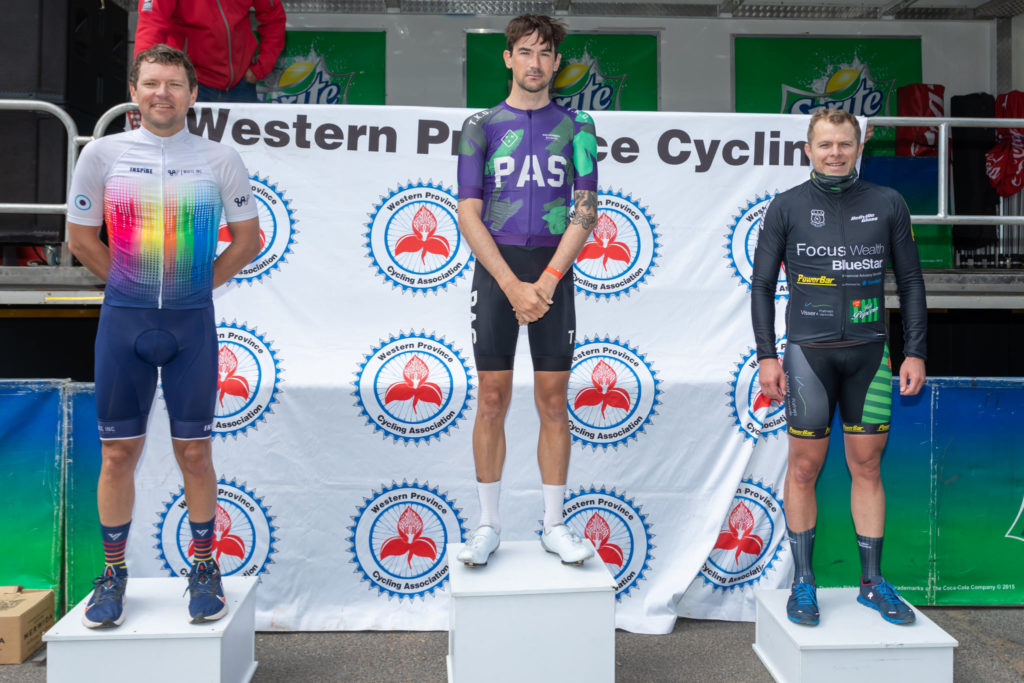 TourDeWorcester – Sun Sep 12 2021 05:40:00 GMT+0200 (South Africa Standard Time)
Pos.
Name
Surname
No.
Category
Time
1
Mathew
Kieser
630
League Category 2
3:25:45.596
2
Jacques
van Staden
644
League Category 2
3:26:38.173
3
Jaco
du Preez
621
League Category 2
3:26:38.273
4
Iain
Mc Gregor
633
League Category 2
3:26:39.191
5
Michael
Viljoen
645
League Category 2
3:26:39.289
6
Andre
du Toit
622
League Category 2
3:26:39.342
7
Daniel
Stephen
641
League Category 2
3:30:24.654
8
Kelson
Da Cruz
618
League Category 2
3:31:44.033
9
Marchall
Hendricks
626
League Category 2
3:31:55.150
10
Nizaam
Esa
623
League Category 2
3:33:17.125
11
Jean
Smith
639
League Category 2
3:33:17.521
12
Reyaan
Traut
642
League Category 2
3:33:43.398
13
Oswin
Booysen
602
League Category 2
3:33:43.401
14
Glen
De Goede
620
League Category 2
3:33:43.628
15
Ken
Prentis
636
League Category 2
3:33:43.900
16
Seth
O'Dea
635
League Category 2
3:36:20.985
17
Thaafier
Jaffer
627
League Category 2
3:44:35.764
18
Blaize Jay
Windscheffel
647
League Category 2
3:45:50.169
19
Petrus
Botha
603
League Category 2
3:46:14.760
20
Yushrick
Bassadien
599
League Category 2
3:46:15.406
21
Mikaeel
Essa
624
League Category 2
3:50:55.668
22
Paul
Marais
632
League Category 2
3:53:34.804
23
Moegamat
Sambo
637
League Category 2
4:12:39.854
Category 3 & Women
TourDeWorcester – Sun Sep 12 2021 05:50:00 GMT+0200 (South Africa Standard Time)
Pos.
Name
Surname
No.
Category
Time
1
Delano
Rasmus
711
League Category 3
3:43:42.401
2
Alroy
Margo
705
League Category 3
3:43:43.294
3
Keith
Jones
702
League Category 3
3:43:43.472
4
Jordan Lee
Mayer
707
League Category 3
3:43:43.497
5
Shaheen
Philander
709
League Category 3
3:43:43.636
6
Michaela
Lubbe
759
League Category 3
3:43:43.738
7
Faisal
Fakier
682
League Category 3
3:43:47.558
8
Bongolethu
Antoni
681
League Category 3
3:43:49.325
9
Marius
Janse van Rensburg
701
League Category 3
3:43:51.865
10
Christopher
Rasmus
710
League Category 3
3:55:17.369
11
Juan
Isaacs
690
League Category 3
3:55:17.617
12
Bradley
Talmarkes
715
League Category 3
3:55:18.803
13
Liesel
Prentis
757
League Women
3:55:30.594
14
Charlissa
Schultz
758
League Women
3:59:11.547
15
Gareth
Vorster
717
League Category 3
4:02:27.312
16
Ian
Rodger
712
League Category 3
4:02:27.411
17
Niklas
Zimmer
718
League Category 3
4:02:31.220
18
Hilton
Saunders
713
League Category 3
4:02:35.310
19
Anwar
Smith
714
League Category 3
4:02:35.313
20
Gamiem
Isaacs I
700
League Category 3
4:02:40.131
21
Mogamad Shakir
Achmat
680
League Category 3
4:03:31.940
22
Chanel
Hannah
760
League Women
4:18:38.844
23
Llewellyn
Oranje
708
League Category 3
4:38:22.618
Open 125km
TourDeWorcester – Sun Sep 12 2021 05:50:00 GMT+0200 (South Africa Standard Time)
Pos.
Name
Surname
No.
Category
Time
1
Gideon Nico
Vermeulen
806
Open – 125km
3:45:17.855
2
Omar
Omar
795
Open – 125km
3:45:52.455
3
Jaymion
Hicks
790
Open – 125km
3:45:52.516
4
Zubayr
Anwary
782
Open – 125km
3:45:52.730
5
Nazly
Khan
792
Open – 125km
3:45:54.546
6
Martin
Verhage
805
Open – 125km
3:45:54.967
7
Manuel
De Jesus
785
Open – 125km
3:46:02.223
8
Zaynub
Parker
796
Open – 125km
3:46:03.060
9
David
van der Want
804
Open – 125km
3:55:30.983
10
Bernard
Laker
793
Open – 125km
4:18:38.633
11
Aubrey
King
807
Open – 125km
4:18:38.978
12
Francois
Siebrits
801
Open – 125km
4:18:39.971
13
Christo
Truter
803
Open – 125km
4:18:41.198
14
Pierre
Fabricius
787
Open – 125km
4:19:09.443
15
Jaco
Fourie
788
Open – 125km
4:19:09.819
16
David
Bradley
783
Open – 125km
4:26:27.234
 Open 70km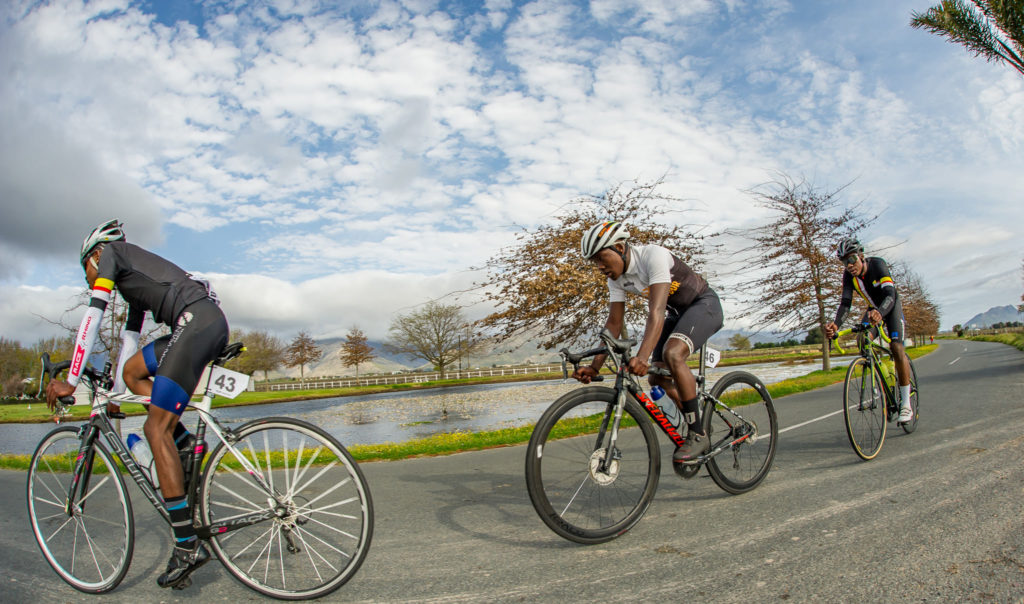 TourDeWorcester – Sun Sep 12 2021 06:30:00 GMT+0200 (South Africa Standard Time)
Pos.
Name
Surname
No.
Category
Time
1
Zubair
Esack
107
Under 17 Boys
2:00:11.833
2
Sibusiso
Mtsopo
38
Open – 70km
2:02:34.941
3
Daniel
Williams-King
109
Under 17 Boys
2:03:32.320
4
Tashreeq
Dollie
100
Under 17 Boys
2:12:10.951
5
Yamkela
Masibhuge
33
Open – 70km
2:12:11.081
6
Christiaan
Davel
4
Open – 70km
2:14:42.630
7
Siphathele
Sosmela
46
Open – 70km
2:15:52.222
8
Aadam
Esa
106
Under 17 Boys
2:15:52.714
9
Ovayo
Mayedwa
34
Open – 70km
2:15:52.718
10
Linamandla
Solani
44
Open – 70km
2:15:53.945
11
Vuyani
Sebonyane
43
Open – 70km
2:16:39.923
12
Jesse
Woods
110
Under 17 Girls
2:16:39.927
13
Randall
Woods
54
Open – 70km
2:18:16.416
14
Arlen
Marais
30
Open – 70km
2:18:39.565
15
Inga
Sombelo
45
Open – 70km
2:19:23.649
16
Derwyn
Oxley
73
Open – 70km
2:20:26.721
17
Asakht
Clmant
2
Open – 70km
2:21:19.707
18
Ighsaan
Dollie
14
Open – 70km
2:21:24.701
19
Gavin
Raath
40
Open – 70km
2:29:08.977
20
Laurence
Renwick
42
Open – 70km
2:32:02.071
21
Werner
Kriel
25
Open – 70km
2:36:33.339
22
Marene
Burger
1
Open – 70km
2:36:33.368
23
Suzanne
Trotzky
48
Open – 70km
2:41:10.330
24
Hennus
Trotzky
47
Open – 70km
2:41:10.583
25
Esra
Davids
9
Open – 70km
2:44:21.034
26
Johan
van der Watt
51
Open – 70km
2:52:35.811
27
Deon
Vermeulen
52
Open – 70km
2:52:36.472
28
Albie
Laker
26
Open – 70km
2:55:07.775
29
Peet
Diedericks
12
Open – 70km
3:05:31.832
30
Xander
Diedericks
13
Open – 70km
3:05:32.252
31
Lindi-May
Harmsen
19
Open – 70km
3:05:34.299
32
Marli
Davel
6
Open – 70km
3:05:34.383
33
Dipesh
Jeena
23
Open – 70km
3:29:14.569
34
Nicole
van der Walt
50
Open – 70km
3:52:01.639
35
Alison Margaret
Downie
15
Open – 70km
3:55:31.581
36
Hendrina Magriete
Meyer
35
Open – 70km
3:55:31.837