We are excited to announce the results of the Century City Crit, held on Sunday 4 March 2018.
With a new, permanent team manning registration and the timing system, and using a new software system, we hope to have a much smoother process this year with accurate results within hours.
Wrong results?
Faults do slip in at times. Please notify us via email only at [email protected], as per the Race Handbook rules no later that 7 days after the race. After this time no further correspondence will be entered into.
Close finish
Rudi did work hard, but got out sprinted Abdul Muttalib on the line. This was our closest contested position.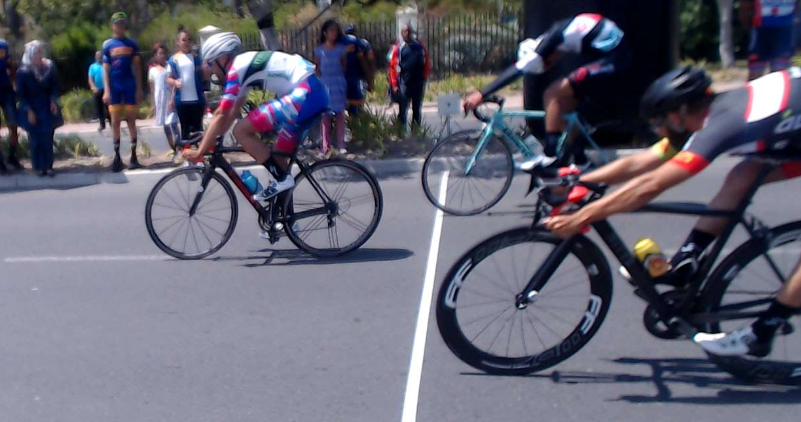 Results
Category 1
| Pos. | Number | Name | Last name |
| --- | --- | --- | --- |
| 1 | 33 | Craig | Boyes |
| 2 | 43 | Jonathan | Van Gesselleen |
| 3 | 30 | Abdul Muttalib | Sauls |
| 4 | 22 | Rudie | Kellerman |
| 5 | 23 | Carl | Bonthuys |
| 6 | 50 | Tyron | Pedlar |
| 7 | 34 | Jacques | Lloyd |
| 8 | 40 | Wynand | Hofmeyr |
| 9 | 39 | Raymond | Cox |
| 10 | 26 | Byron | Munton |
| 11 | 42 | Etnard | Louw |
| 12 | 32 | Tristan | de Lange |
| 13 | 37 | Robby | Rodrigues |
| 14 | 38 | Robin | Harris |
| 15 | 21 | Wynand | Dippenaar |
| 16 | 27 | Ian | Naude |
| 17 | 36 | Gareth | Hitchings |
| 18 | 35 | Waylon | Woolcock |
| 19 | 41 | Rocco | King |
| 20 | 20 | Theuns | Van Der Bank |
| 21 | 44 | Dewald | Nienaber |
| 22 | 25 | Matthew | Fortuin |
| 23 | 28 | Jarrett | West |
| 24 | 48 | Brannon | Miller |
| 25 | 24 | Ethan Allan | Parker |
| 26 | 51 | Andrew | Tompkins |
Category 2
| Pos. | Number | Name | Last name |
| --- | --- | --- | --- |
| 1 | 538 | Mirsab | Jordan |
| 2 | 524 | Oswin | Booysen |
| 3 | 535 | Jurie | Kruger |
| 4 | 526 | Achmad | Solomon |
| 5 | 525 | Salaaghuddeen | Jacobs |
| 6 | 537 | Donovan | de Wet |
| 7 | 536 | Giuseppe | Pennisi |
| 8 | 530 | Tyrone | Aanhuizen |
| 9 | 527 | Brian | Dodkins |
| 10 | 522 | Rob | Evetts |
| 11 | 534 | Adam | Yeld |
| 12 | 521 | Rafiek | Kamaldien |
| 13 | 533 | Linda | Hitchings |
Category 3
| Pos. | Number | Name | Last name |
| --- | --- | --- | --- |
| 1 | 1021 | Tyreeq | Adams |
| 2 | 1028 | Tyrone | Renwick |
| 3 | 1030 | Ziyaad | Solomon |
| 4 | 1023 | Vernico | Cornellissen |
| 5 | 1022 | Njabulo | Mdhluli |
| 6 | 1040 | Michael | David |
| 7 | 1029 | Timothy | Mehl |
| 8 | 1026 | Lee | Canham |
| 9 | 1034 | Tahier | Phillips |
| 10 | 1038 | Tyrone | de Smidt |
| 11 | 1031 | Birgitt | Ouweneel |
| 12 | 1037 | Gameed | Salie |
| 13 | 1033 | Hanber | Leedo |
| 14 | 1035 | Ricky | Samuels |
| 15 | 1020 | Jacques | Bredenkamp |