Organisers often ask about the benefits of organising a cycling event in conjunction with our organisation. We have listed some of the benefits here for the consideration of organisers.
Compliance
We, together with CSA, though our standard processes and procedure ensure that when we apply for an event it is compliant to all relevant acts relating to sporting events, which includes;
Regulation 317 of the National Road Traffic Act (Act 93 of 1996)
Disaster Management Act (Act 57 of 2002)
Occupational Health and Safety Act and Regulations (Act 85 of 1993)
Health & Safety at Live Events – General Requirements SANS 10366:2005
The Safety at Sports and Recreational Events Act (Act 2 of 2010)
National Environmental Management Act (Act 107 of 1996)
Consumer Protection Act (Act 68 of 2008)
Reference should also be given to the Liquor Act (Act 53 of 2003) should these services be provided.
Event organizations should also take cognisance of the fact that even though each rider may be required to sign a waiver against any claims prior to being accepted as an entrant, event organisers are still liable if any negligence could be proved by a court of law.  Sanctioning of a cycling event by CSA includes the necessary public liability insurance to protect you in these cases.
Cycling event calendar
Races organised through us will be listed on the WP cycling calendar, hosted on our website, which drive additional interest.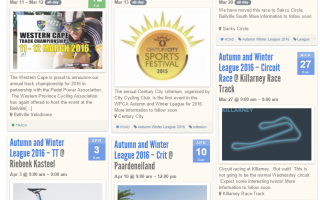 Social media
We are very successful with our social media marketing, ensuring that your sponsors get proper brand and product coverage. Events, race reports, results and other notices are all posted our Facebook pages. Our WP Cycling and WP Track Facebook pages reach over 15,000 people weekly.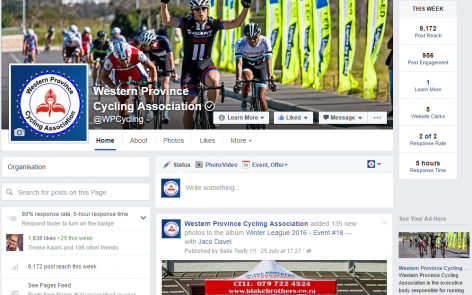 Online entry and payment
We provide an online cycling event registration system where riders can enter and pay for events. The system provides;
multiple entry type, i.e. based on category, age, distance
advance discount structures, i.e. bundled packages, bulk discount, membership discount, etc.
handle credit card, EFT and cash payments
real-time entry and sales reports
manage the pre-assignment of categories, race numbers, timing tags
prepare race packs, which could contain race numbers, indemnity forms and timing chips
credits or refunds
discount coupons, i.e. for promotional use
automatically generated start lists, registration sheets, collection checklists, etc.
financial reports
Race timing
We own our own electronic timing system where we are able to produce your race results moments after the race has finished. The system can be used for circuit (lap based) races, road races and stage races (which require a general classification score). Our technology provider is Mobii.