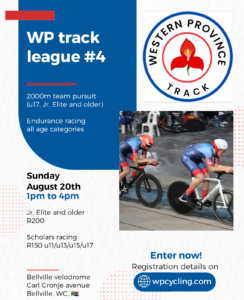 Entries are open for WP track league 4. The racing is from 1 to 4 pm on Sunday 20 August. This avoids loadshedding.
The program is geared to prepare riders for the SA omnium champs.
The snowball race makes its appearance on the program to up the intensity. The first rider across the line scores 1 point on lap one, 2 on lap 2, 3 on lap 3 and some forth. The race is 12 laps so lap 12 is worth 12 points. The rider with the most points wins the race.
The last event of the night is the team pursuit over 2000m. This will test the legs of the riders after a full evening of racing.
Event and entry details.
Program: WP track league 20 Aug 2023