When:
2022-10-01 – 2022-10-02
all-day
2022-10-01T00:00:00+02:00
2022-10-03T00:00:00+02:00
Where:
Bellville Velodrome
Bellville
Cape Town
South Africa

Contact:
Nigel Isaacs
079 377 2212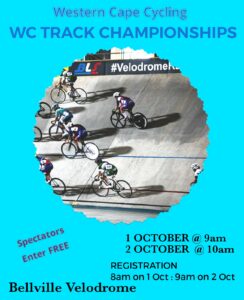 Western Cape Cycling is proud to announce its annual Track Championship for 2022. The Western Province Cycling Association has again offered to host the event at the "house of pain", the Bellville Velodrome.
The Championships will be held in accordance with the regulations of the Union Cycliste Internationale (UCI) unless otherwise ruled by the National Federation. The racing format may also be modified at the discretion of the President Commissaire in response to prolonged stoppages with the possibility of events being cancelled due to insufficient time to complete them.
URGENT PROGRAM UPDATE!
Due to the load shedding experienced earlier, it was decided to curtail the racing today and hold the Scratch races over to Sunday.  Racing will start at 9h00 and NOT 10h00 as previously advertised.  There are also other changes to the program.  Please see updated program by clicking on the link below
Program of WC Champs 2022 – UPDATE 20221001
Dates and times
Saturday 1 Oct 2022 – at 09h00
Sunday 2 Oct 2022 – at 10h00
Entries
Entries close Friday 23 September 2022
Elite, Juniors and Masters  (No additional team entry fees):  R 350.00
Scholars: R 300.00
No late entries at all

PLEASE NOTE THAT TEAMS ARE TO BE DECLARED BEFORE 12H00 ON WEDNESDAY 28 SEPTEMBER
WE WILL NOT ACCEPT TEAM SUBMISSIONS AFTER THIS DATE!

TEAM LISTS TO BE SENT TO [email protected]
NOTE: PAYMENT ON THE DAY IS NOT ALLOWED! 
Start lists will be drawn up in advance. You need to pay the entry fee before the closing date and make sure that your payment is completed.
Venue
The event will be hosted at the Bellville Velodrome.

Program
Please click on the link below to see the provisional program for the Championships.  Please note that this is provisional and could be amended at any time.
Program of WC Champs 2022 – Draft
Version 1 Released 17 August 2022
Participant Matrix
Click on Event Entry Matrix to view a list of participants vs events.  Please ensure that the events you are entering are applicable for your age category.
Please check if the events you entered are correctly reflected. Should you have any queries or corrections please send an email to [email protected].
This should reach us no later than 12h00 on Wednesday 28 September 2022.
The event start lists can be viewed by clicking on the link below.  Please note that those who have entered team events have not been sorted into their teams at this stage and these pages only reflect those who have entered into team events.  The teams will be posted once finalised.
Please confirm that you are entered into the events you have previously chosen.  Should there be any queries please send an email to [email protected] before 16h00 Friday 30 September so we can address it.
Race Handbook
Please click on the link below to open the race handbook for the 2022 Provincial Championships.
Collection of Race Numbers
A valid Cycling SA membership/proof of license must be presented on collection. Numbers must be collected at the event registration table from 8h00 on 1 October and 9h00 on 2 October 2022.
Pursuits and Team sprints
Teams must submit their names before 12h00 on Wednesday 28 September 2022.  This can be done via an email to [email protected]  Madison numbers can be collected on Sunday 2 October 2022.
Parking
All riders will have to park outside in the public parking areas.  Inside parking is reserved for officials and organisers.  Security has been instructed not to allow unauthorised vehicles inside the stadium. This is to allow emergency vehicles unobstructed access.
Please contact [email protected] in advance for disabled/elderly people access.
Online Entries
Entries open Thursday 25 August and will close at midnight on Friday, 23 September 2022. This is a hard deadline and no exceptions will be made. Manual or on-the-day entries cannot be accommodated.
PLEASE NOTE THAT DUE TO UCI REQUIREMENTS, WE CAN NO LONGER ACCEPT ENTRIES AFTER THE CLOSING OF THE ONLINE ENTRIES.

 Event management and online entries made processed by Myriad Events.
Changes
Need to make a change to an existing entry? Please send us an email to [email protected] so that we can assist you.
Trouble with online registration?
If you experience problems trying to enter, please disable any ad-blockers you may have installed and/or try using a modern browser, such as Chrome, Firefox or Safari. Internet Explorer is by far the worst option.
Cycling SA Membership and licenses
This is a provincial race and sanctioned under Cycling South Africa, therefore the applicable rules by Cycling SA, and by extension the UCI, will apply. Participants must have a Cycling SA full racing license or a Cycling SA Membership.
Cycling SA Racing License means a license issued to any cyclist who wishes to participate in a Cycling SA sanctioned event, irrespective of any other license which that member may hold. (As per 1.2.11) A Full Racing License allows a cyclist to compete in all sanctioned cycling events including inter-provincial events Provincial Championships and league races.
Thus, all participants must be in a possession of a Cycling SA Full Racing License or a CSA Membership to participant.  Day licenses will not be allowed.
Trouble with your Cycling SA License?
We often get complaints about participants unable to enter due to a message about invalid Cycling SA  license during the online registration process. Our system verifies both your Cycling SA membership and Cycling SA domestic racing license to be valid on the day of the event. Licenses expire on 31 December each year, so you should have a new 2022 license for this event. Membership expires 1 year after your last renewal or purchase. This date could be prior to the event date. Carefully review both expiry dates before contacting us.
New membership or licenses, including renewals, can be purchased online on the Cycling SA membership page.
Cancellation Policy
Due to the uncertainty surrounding the Covid-19 epidemic, the organisers of the Western Cape Track Cycling Championships reserve the right to cancel the race should circumstances dictate.  If we cancel the race 7 or more days before the time (on or before 23 September 2022) we will refund those who have entered 60% of their race fee.  Anytime after that, we will refund 30% of your entry fee.  Alternatively, arrangements can be made with the registration team to carry the race fee over to the rescheduled event.  Should you request a refund, when the rescheduled event is announced, you will be required to pay the full amount again.
Entrants who cancel their entries 7 or more days before the time (on or before 23 September 2022) will be refunded 30% of their entry fee.  Cancellations in the 7 days prior to the event, or on the day itself, will not be refunded.
Contact us
If you have any questions or having trouble entering online, please send an email to [email protected]. Your email will be answered by Jaco, Nigel, Sue or Christhonie. Please keep in mind we all work full time so may only get round to answering your email after hours.