When:
2020-01-11 @ 8:00 am – 2020-01-12 @ 5:00 pm
2020-01-11T08:00:00+02:00
2020-01-12T17:00:00+02:00
Where:
Perdeberg Cellars
Vryguns Farm Windmeul
Paarl, 7624
South Africa

Contact:
Sue Kirk / Zanne Parsons
0835789375 / 0837212380

Cape Winelands Cycling is hosting the Western Cape Road and TT Championship, and also incorporating the Cape Winelands Road & TT Championship from Saturday, 11 January 2020 to Sunday, 12 January 2020.
The Time Trial will be held on Saturday 11 January and the Road Race on Sunday 12 January
Number collection
You race numbers can be collected in advance:
Date: Friday, 10 January
Venue: Perdeberg Cellar, Paardeberg (Use the navigation map above)
Time: 16h00 – 19h30
Eat @ Perdeberg will be open and serving pizza at registration.  Please support them.
Or on the day, starting at 06h00 each day.
Timing Chips
Riders with a Mobii timing tag assigned to their name should bring this along. Do not another person's tag, as your time will then not be recorded. Please get your tag tested at number collection, as the batteries do run flat even when not used. We do not support RaceTec tags!
Riders without a Mobii can collect one at number collection, preferably on Friday, so not to be rushed. Riders must pay R100 IN CASH and is refundable at the end of the event. These tags cannot be purchased (they are not ours to sell).
Managers Meeting
All managers must report to the manager's meeting, which will take place at 07h30 on Sunday morning at the start line. Please bring along your valid CSA Managers License for verification.
Additional information
Additional Information will be made available closer to the time
CSA Membership and licenses
This is a provincial race and sanctioned under Cycling South Africa, therefore the applicable rules by CSA, and by extension the UCI, will apply.
Participants are encouraged to have a CSA Full Domestic Racing License to qualify for titles, medals and jerseys, but the alternatives are listed below. In each case a reference to the CSA General Organisation of the Sport, Part 1, applies;
CSA Membership

Masters (as per 1.3.2.2 and 1.3.2.2.1) – Master (Veteran) cyclists do not require a Full Racing Licence in order to be eligible to participate in the Provincial Championships but are required to hold Full Racing Licence in order to be eligible for medals, provincial colours or a podium position in the Provincial Championships;
Others (as per 1.3.3.2) – A cyclist holding a Membership Licence may compete in Provincial Championships but will not be eligible for a medal, jersey or podium position. In this race we have no other special provisions in terms of recognition for CSA members.

Day Licenses (as per 1.3.4.2): 

In all other events [non-national events], cyclists may participate with a Day Licence, issued by the relevant Provincial Body. 
However, as per 1.3.2.2: Cyclists in the Elite, Under 23 and Junior age categories are required to be in possession of a Full Racing Licence when competing for prize money in any cycling event sanctioned by Cycling SA or in the Provincial or National Championships within these respective age categories.
Route
Road Race
The Road race takes us out on a circular route of 72km.  Elite and U23 men will do this twice.
Elite and u/23 men 137km route (loop 2x)
Vet men 35-54 118km route
Elite women and Vets men 55+ 93km route
U17Boys/U19Girls 69km route
TT Circuit
The time trial circuit is an out-and-back along Slent Rd and applies to all categories. The Elites, U23 Men  and the Vets Men 30-34 and 35-39 add a bit more to the distance by turning left at the 4-way stop to make a 35km TT for them.  The start and finish will be at the same location in all cases.
35km route for Elites, U/23 and Vets Men 30-34 and 35-39
20km route
Times
Times will be announced closer to the event.
Start and Finish Area
The start line will be on Vryguns Road, outside Perdeberg Cellars.  "T" indicated the start line, while "R" indicates the Registration area.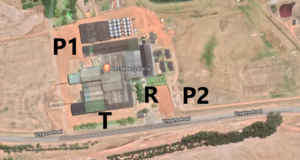 Parking
Parking will be provided on the premises of Perdeberg Cellars. Access the parking from Vryguns Road.
Note that no parking along Vryguns Road will be permitted at any time.
Category Details
| Category | Time Trial | Road Race |
| --- | --- | --- |
| Elite Men | 35km | 138km |
| Elite Women | 20km | 93km |
| U23 Men | 35km | 138km |
| U23 Women | 20km | 93km |
| Vets 30-34 | 35km | 118km |
| Vets 35-39 | 35km | 118km |
| Vets 40-44 | 20km | 118km |
| Vets 45-49 | 20km | 118km |
| Vets 50-54 | 20km | 118km |
| Vets 55-59 | 20km | 93km |
| Vets 60-64 | 20km | 93km |
| Vets 65+ | 20km | 93km |
| U11Girls | 10km | 20km |
| U11Boys/U13Girls | 10km | 20km |
| U13Boys/U15Girls | 12km | 25km |
| U15Boys/U17Girls | 15km | 50km |
| U17Boys/U19Girls | 15km | 69km |
| U19Boys | 20km | 118km |
| Para C1 to C5 | 15km | 50km |
| Para T1 and T2 | 15km | 25km |
| Para H1 – H2 | 15km | 25km |
| Para H3 – H5 | 15km | 50km |
Costs
Elite/Women/Under 23/Junior and Vets:
Road Race Only R350
TT Only R250
Both R450
Youth – Under 11 to Under 17:
Road Race Only R250
TT Only R150
Both R350
Para:
R250 – Please send an email to [email protected] for Para entries.
Online Registration
 
 Event management and online entries made possible by

Trouble with your CSA Membership or License?
We often get complaints about participants unable to enter due to a message about invalid CSA membership or license during the online registration process. Our system verifies both your CSA membership and CSA domestic racing license to be valid on the day of the event. Licenses expire on 31 December each year, so you should get a new 2020 license for this event. Membership expires 1 year after your last renewal or purchase. This date could be prior to the event date. Carefully review both expiry dates before contacting us.
New membership or licenses, including renewals, can be purchased online on the CSA membership page.