The Third Race of the SRAM WC XCO Series, takes place at Zevenwacht Wine Estate in Kuilsriver on the 27 of April 2019.
Online Entries
Entries will open on Tuesday 9 April and will close on Monday 22 April
Late Entries:   These are possible at race registration on the Friday before the event, however there will be an additional late entry fee of R50.
Entry Fee:     This year, we are doing away with the Series Membership Fee, but the cost of each race entry will be higher.   We are still planning on free goodie bags for those who enter the WC Champs.
The race entry fee is R 220 for Nippers and Sprogs and R 340 for all other age groups.
Cycling South Africa Membership and Licence Requirements:   To register and race (and to qualify for regional or provincial colours), South African riders must hold a valid Cycling South Africa Membership or Cycling South Africa Full Racing Licence at the time of entry.
Juniors and Elites need to have Cycling South Africa Full Racing Licences and  all other categories may have Cycling South Africa Memberships.   For more information about Cycling South Africa, Click here
Please ensure that you have paid your Cycling South Africa fee.  Kindly bring your printed Membership/Licence Card to registration.
Foreign nationals and others with valid reasons for not having Cycling South Africa Membership/ Licences may purchase a day licence at registration or via the entry process in order to race.
EARLY ENTRIES ARE CLOSED
LATE ENTRIES AT THE VENUE ON FRIDAY
FROM 14:00 TO 16:00
Race categories, Entry fees and Race times
Race categories are based on your 2019 Birthday Age and not on your current age.  For example, if you are now 10, but turning 11 on 20 December 2019, you are considered to be 11 for the whole of 2019 and will race 2019 as a Sprog.
Programme:  
This is a provisional programme – please keep an eye on it for changes.
Please be at the start at least 15min before your advertised start time – we can start early !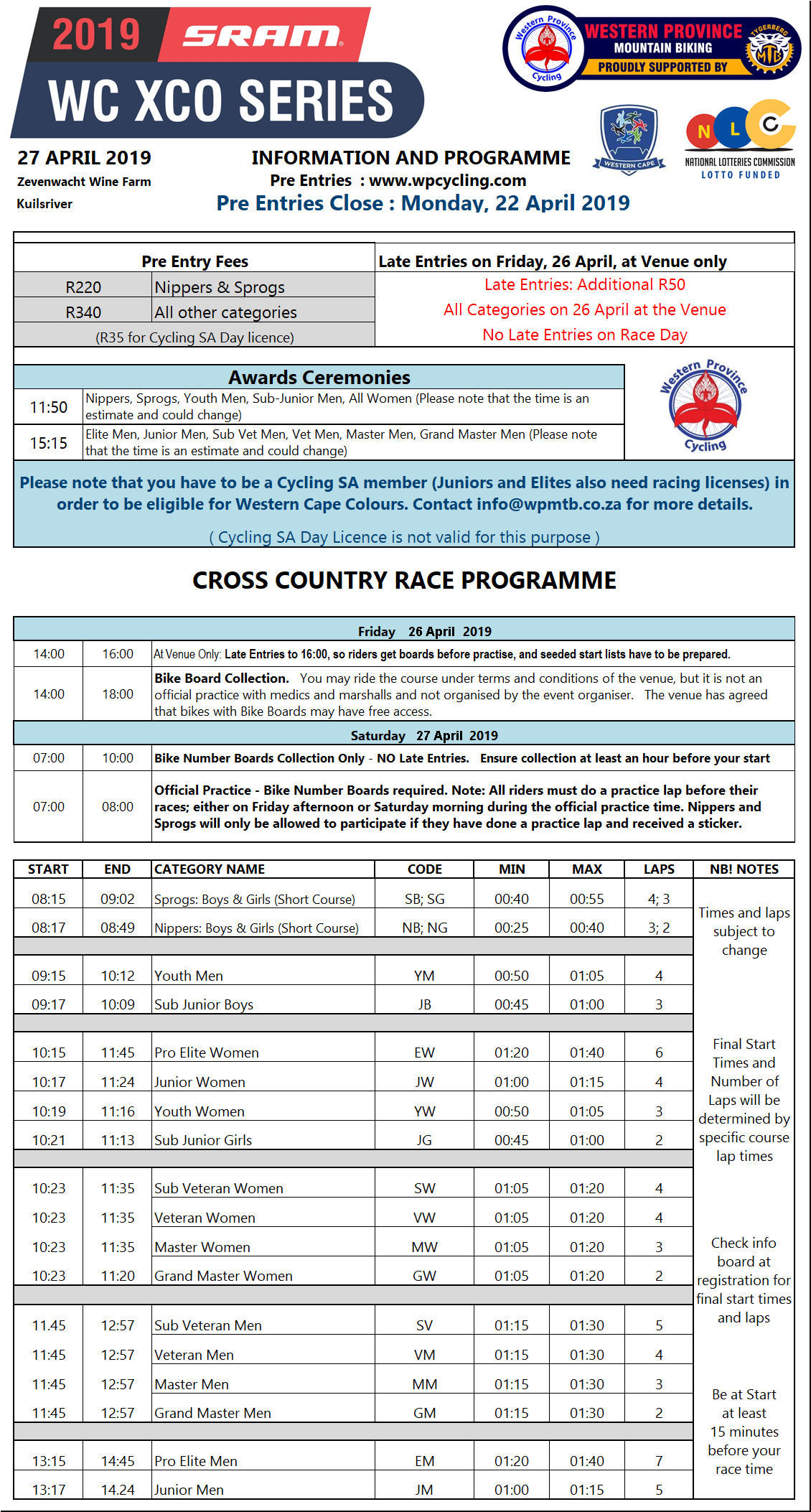 Course and distances
Full Route: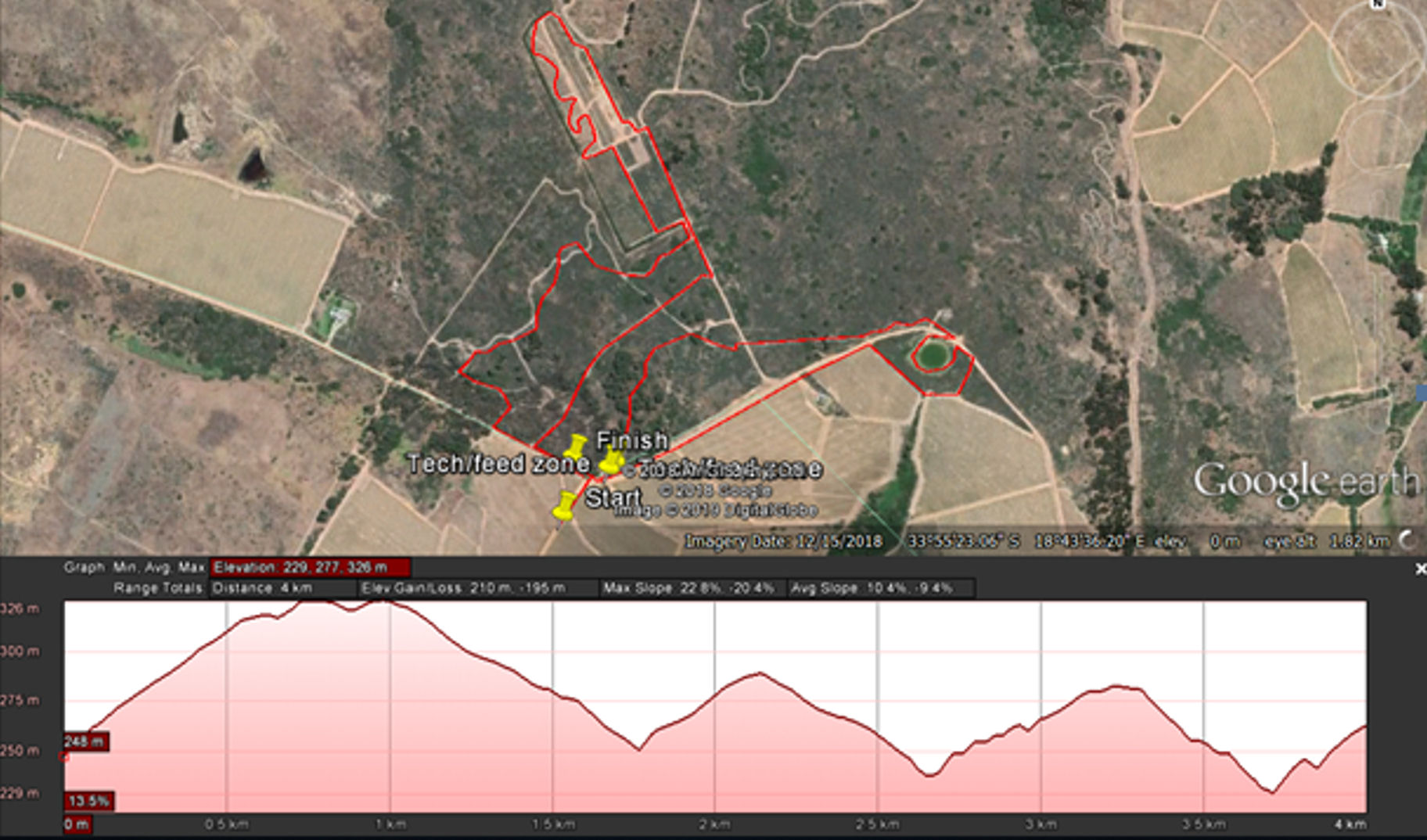 Nipper and Sprog Route: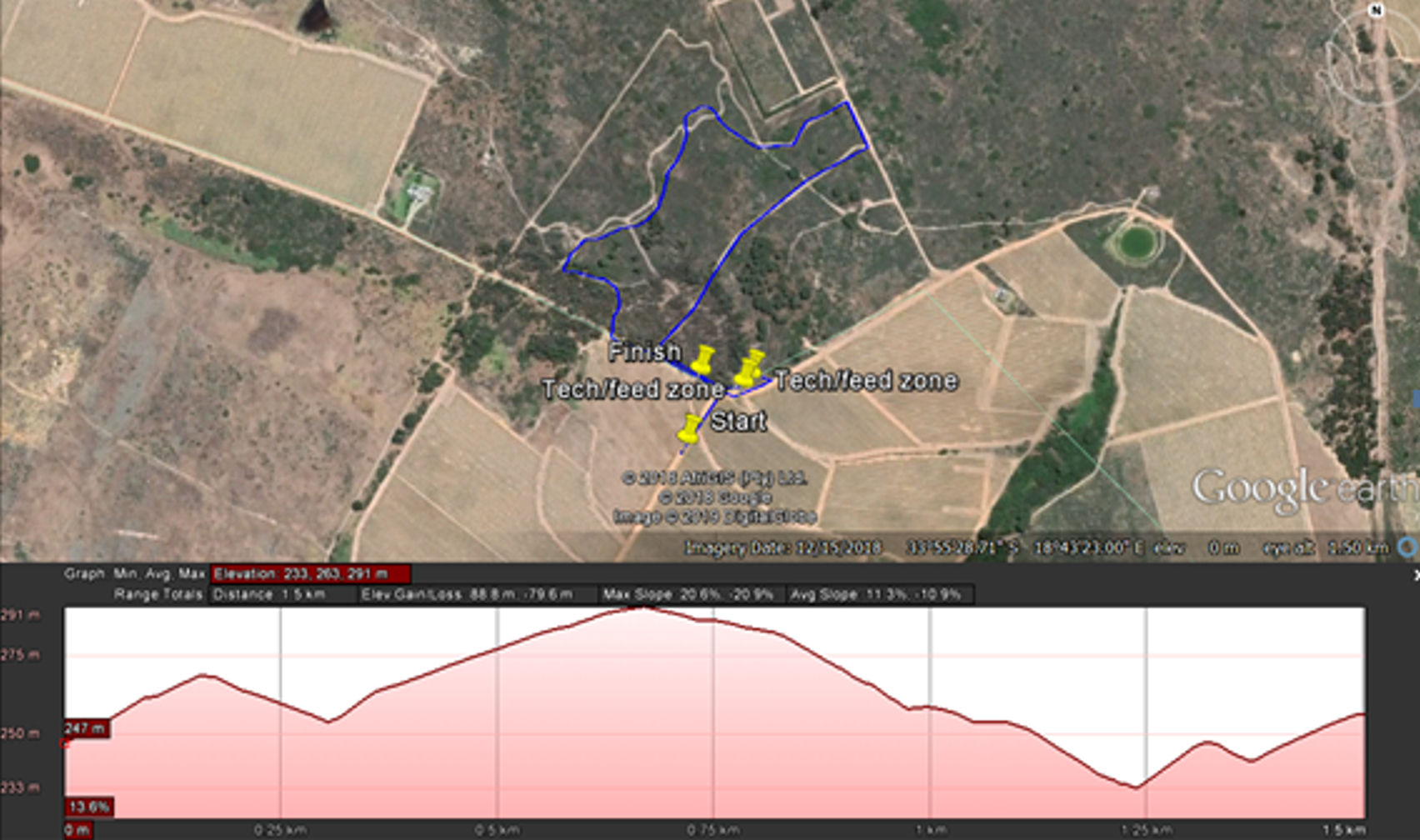 Official and Compulsory Practice:   There will be an official practice on Saturday  27 April 2019, from 7:00 to 8:00.     It is compulsory for Nippers and Sprogs to practice the course.  This is for their safety – to give parents and riders the opportunity to identify which obstacles riders are not competent to ride and to ensure that they do not get lost en route !
If you wish to ride at Zevenwacht on any day before the 27 April, it will not be part of this event and you need to purchase an the relevant entry tickets from the venue and you will be governed by their terms and conditions.
Technical/Feed zones: 
As shown on the route map.
Host venue
Zevenwacht Wine Estate is situated on the beautiful Stellenbosch Wine Route with panoramic views of Table Mountain, Table Bay and False Bay.   Please visit  Zevenwacht for more information.
Registration: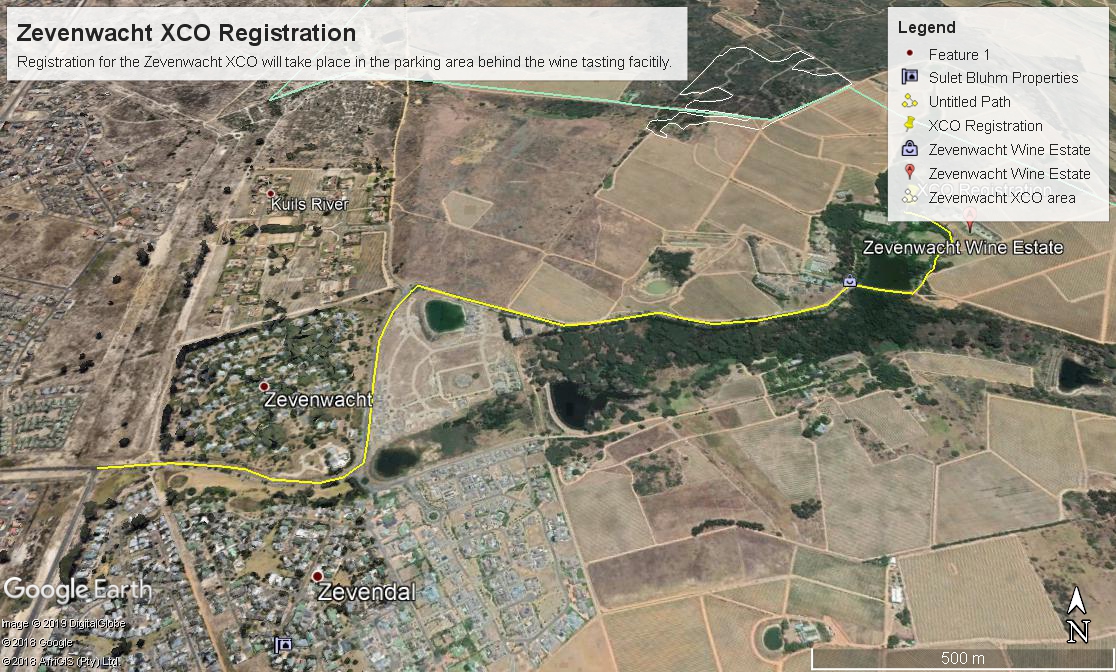 Mountain Biking at Zevenwacht
Zevenwacht Wine Estate links to the extensive network of Mountain bike trails within the Bottelarey Hills Conservancy.   For cycling on any day, other than race day, please consult the Bottelarey Conservancy website for more information and please respect your access to this area.
Sponsors
This event is made possible by: