Hosted on the Home Grounds of Tygerberg Mountain Bike Club, first race of the The 2019 SRAM WC XCO Series, in association with Bike Hub, takes place at Bloemendal, Durbanville on the 2nd of February 2019.
The season opens with a double event, where points can be earned for both the National Series and the Western Cape Provincial Series.
The National Series offers all-important Category 1 UCI points and forms part of the UCI Junior World Series.  Local and international competitors alike will be looking to garner points to boost their rankings early in the season.
Western Cape riders will enjoy a competitive start to the year with top racers, both local and international.
Sunday 3 February:     A second day of racing has been lined up for Junior and Elite Riders.   This day forms part of the SA Cup Series and is an opportunity for individual riders to up their UCI  points.
But, we encourage all SA riders to race on Sunday as the points that they earn will contribute to raise the standing of TEAM SA.   TEAM SA needs these points in order to be a qualify to send a team to take part in the 2020 Tokyo Olympics.
Online Entries
Online Entries can be done via the Cycling South Africa Website and you, as a Western Province affiliated rider will be entered automatically into both the first race of the SRAM WC XCO Series in association with Bike Hub and the SA CUP SERIES.   Click on the Enter Now link that can be found lower on this page.
Online Entries Close:  Tuesday 29 January 2019
Late Entries:   Late entries will be accepted at race pre-registration on the Friday before the event, however there will be an additional late entry fee of R50.
Cycling South Africa Membership and Licence Requirements:   To register and race (and to qualify for regional or provincial colours), South African riders must hold a valid Cycling South Africa Membership or Cycling South Africa Full Racing Licence at the time of entry.
Juniors and Elites need to have Cycling South Africa Full Racing Licences and  all other categories may have Cycling South Africa Memberships.   For more information about Cycling South Africa, Click here
Please ensure that you have paid your Cycling South Africa fee.  Kindly bring your printed Membership/Licence Card to registration.
Foreign nationals and others with valid reasons for not having Cycling South Africa Membership/ Licences may purchase a day licence at registration or via the entry process in order to race.
Series Membership:     Not applicable this year.
Compulsory Practice:      It is compulsory for Nippers and Sprogs to practice the course at the official practice on the day before the race (Friday) and checking will be done.  This is for their safety – to give parents and riders the opportunity to identify which obstacles riders are not competent to ride and to ensure that they do not get lost en route !
Race categories, Entry fees and Race times
Race categories are based on your 2019 Birthday Age and not on your current age.  For example, if you are now 10, but turning 11 on 20 December 2019, you are a Sprog Girl for all 2019 races.
PRE-ENTRIES ARE CLOSED.   
LATE ENTRIES ARE POSSIBLE UNTIL 3PM ON FRIDAY 1 FEBRUARY AT BLOEMENDAL.

Programme:   
The provisional programme is as follows:   Please note that Sunday is for Juniors and Elites only.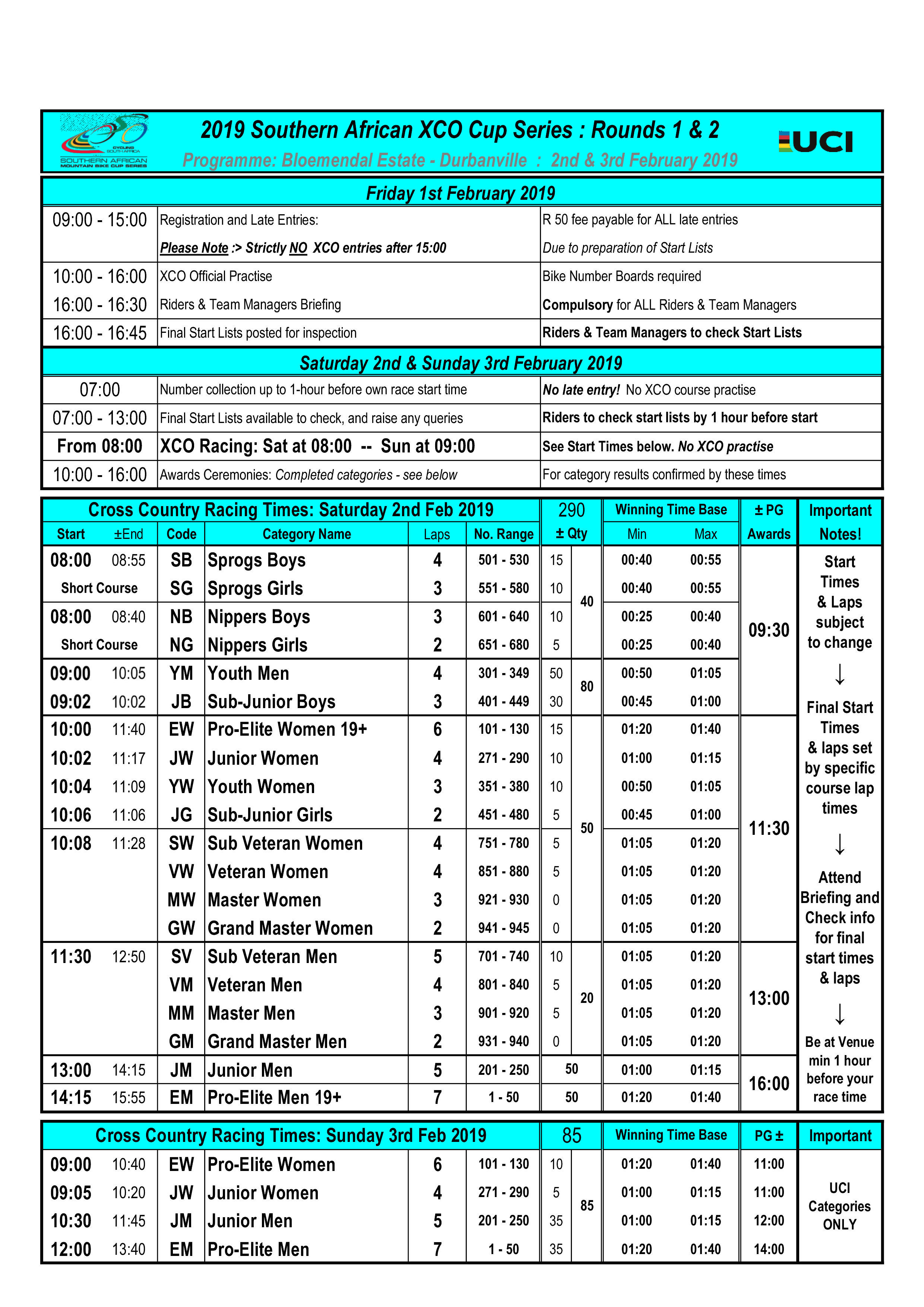 Course and distances
This the provisional full course: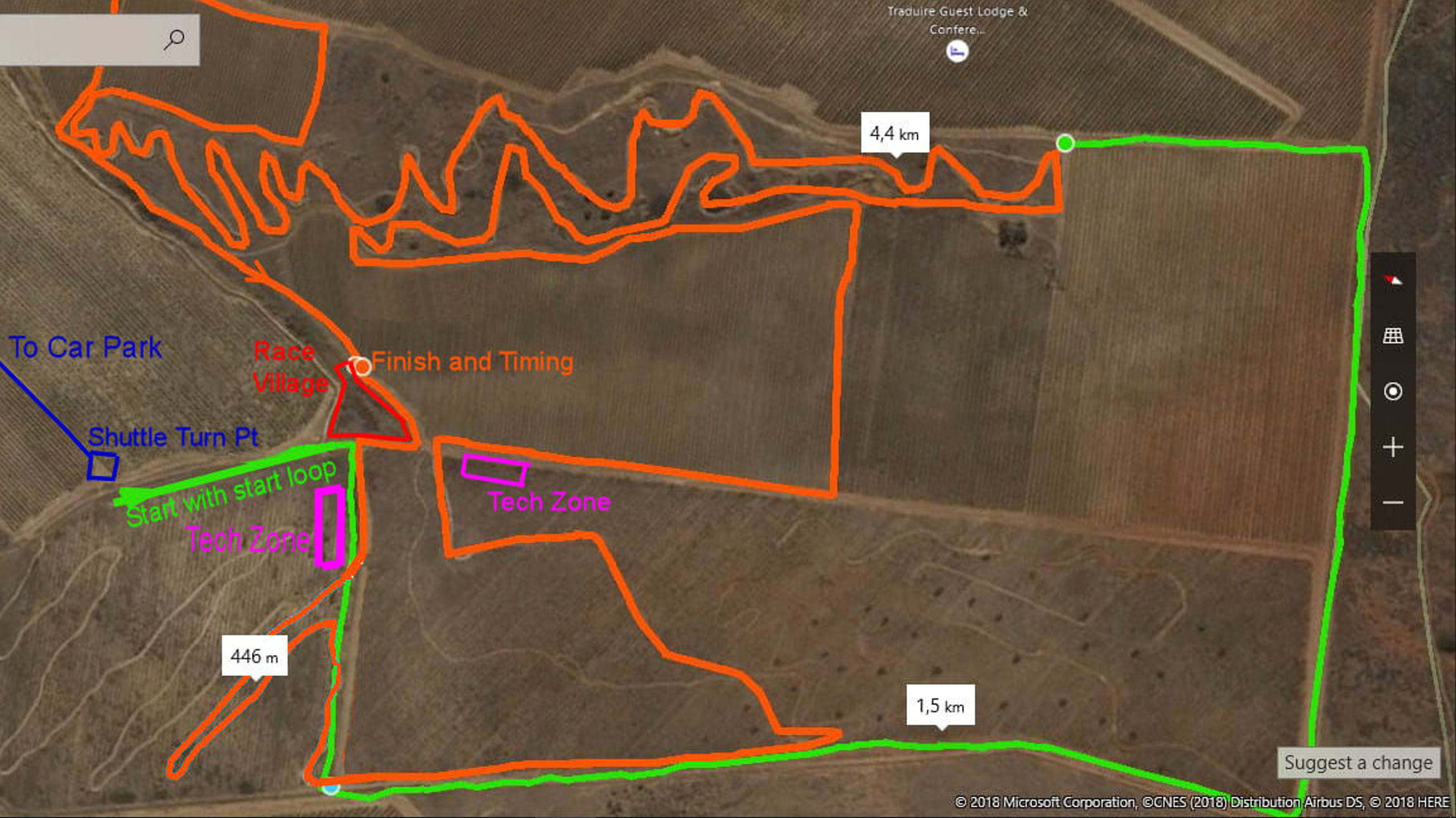 Marking of the Track:  Marking of the track and the construction of the race village will commence on Thursday prior to the event.
CyclingSA and the WPMTBC only take possession of the track being utilized on the commencement of the official practice and at that stage will offer the necessary marshaling and medical services.
Technical/Feed zones:  There will be two Technical & Feed zones which will operate back-to-back on the start field.  Entrance to these zones will be restricted. Please apply for access at registration.
Host venue
Sponsors
This event is made possible by: