When:
2018-07-29 @ 7:00 am – 2:30 pm
2018-07-29T07:00:00+02:00
2018-07-29T14:30:00+02:00
Where:
Contermanskloof
Contermanskloof farm
Contermanskloof Road, Durbanville, Cape Town, 7551
South Africa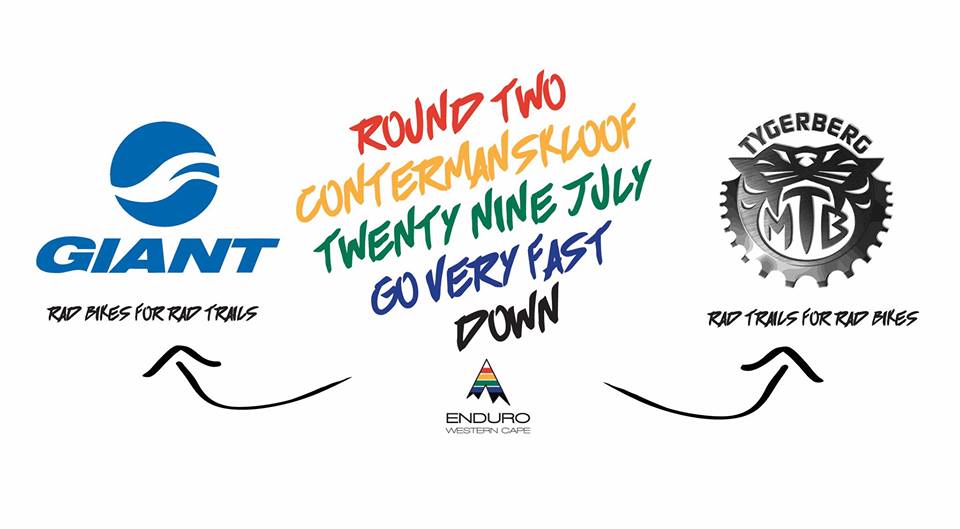 Second stop for the 2018 season is Contermanskloof. This track has it all. High speed and rocks,  steep tech and flow trails. Who is gonna be King of Conties? Entries open 29 June!
One, it's going to get a little harder now -more 'Enduro' lets say…
Two, this trail center has it all by way of tracks.
Three, we'll have a few new tracks to keep things interesting thanks to the landowner.
Who is going to beat the Hoogekraal winners and take the Title of 'Best in the West'?
This Event is bought to you by:
Registration
Do yourself a favour and read ALL of the info below before entering thanks – it's like practising a stage before race day!
The registration process will only be done once (it will be updatable) and will ensure your emergency details are entered and your sponsors get a shout out on your results sheet :).
It will then lead you onto entering for either the LITE enduro or the FULL enduro with preferred start batch.
CSA Licenses
Please note that we are a CSA sanctioned event & series so you MUST have a CSA membership (or CSA day license) to race so that we are covered by their insurance liability.
If you plan on racing in elite UCI events you must have a domestic/international racing license (which needs a CSA membership too :/ )
The registration process checks on your CSA status and will let you know what you need.
Course and distances
The full route will only be launched the day before the race!
Feel free to go and practice the normal Contermankloof trails beforehand but please note that race day routes will differ to the normal trails!
FULL Enduro is 5 stages, 23.5km and 1025m elevation (Stages 1,2,3,4,5)
LITE Enduro is 17km  and 680m elevations (Stages 1,2,3)
Routes will be marked on race day and you will be able to view the route on Trailforks on race day.
Categories
We will have a  LITE Enduro category (all ages) and the following categories in male and female for the FULL Enduro. Anyone younger than 12 will have to enter the LITE enduro and be accompanied by an adult.
Junior (12-19),
Senior (20-29)
Sub Vet (30-39)
Veteran (40-49)
Masters (50+)
Start Batches
We'll have seeded start batches to ensure an efficiently run day and it means you can arrive 1 hour before your start batch, saving you time
If you would like to start in a different group from the one you selected when you entered, it is no problem – you don't have to tell us – just pitch up, register, and shred in the other group!
Registration Open:  7h00
Batch 1: LITE/beginner riders
Race Briefing: 7h55
Start: 8h00
Batch 2: Intermediate riders
Race Briefing: 8h50 
Start: 8h55
Batch 3: Advanced riders
Race Briefing: 9h40

Batch 3 – 9h45
Batch 4: Top 30 riders
Race Briefing: 10h25

Batch 3 – 10h30
This should ensure that everyone is only out on course for about 2-3 hours and less queuing at starts of the Special Stages. It also means that early starters can go up to one of the last stages after they have handed in their timing watches and heckle the pro's!
When you enter the event you will be able to choose your start batch. We'll let you know your start times before the event.
Parking & Food vendors
Parking will be available at Contermanskloof and there will be food and drink to buy at the amazing Dairy Shed.
Entry & Costs
R364 for the Full Enduro (5 Stages about 25km)
R264 for the LITE Enduro (3 Stages about 15km)
(+R35 for CSA Day License if you are not a CSA member)
Entries close at 23:59:59 Thursday 26 July (or first 300 riders to pay!)
We will refund racers that may have overpaid due to a CSA license bug


The EWC races are supported by: