The annual WP road and track cycling colours awards evening is on Friday 9 Dec at 6pm for 6.30pm.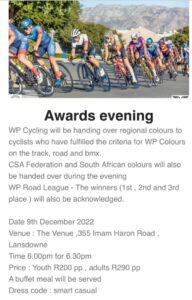 List of riders receiving road and/or track colours:
Registration for this event closes on the evening of  Wednesday, 7 Dec.
No late or cash entries can be accepted due to the logistics of catering and due to good governance.
Cost is R200 per scholar (youth) and R290 per adult.
Please rsvp to [email protected]
Proof of payment to have initial and surname and indicate number of people and category for example:
J.Scholtz 1sr 1jr
Payments to be made to the Wp track account: