Sep
24
Sun
HERITAGE DAY GRAND PRIX – BELLVILLE VELODROME

@ Bellville velodrome
Sep 24 @ 10:00 am – 1:00 pm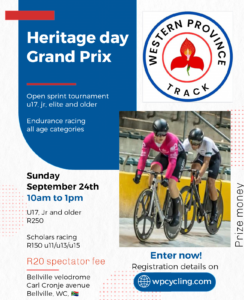 Entry fee
R250 – u17, jr and older
R150  – u11, u13, u15
R20 spectator fee
Entering to the event is subject acceptance of the:
WPCA WAIVER AND CONSENT FORMS FOR TRACK
NOTE THAT WE ARE SAFE FOR LOADSHEDDING, BUT NEED TO BE DONE BEFORE 2pm
PRE-ENTRY only by Eft to Wp cycling. Entries close on Tue 19 Sep 2023
How to enter:
Mail proof of payment, name and category to [email protected]
Bank details:
Western Province cycling association
Standard Bank
Account type: Current account
Account Number 20 095 798 8
Universal branch Number: 051 001
Proof of payment: [email protected]
NUMBER COLLECTION and SIGN-ON close at 9.30am on Sunday 24 September 2023.
Pre-entry only, no late entries accepted.

Online entry form needs to completed by deadline
Pop needs to be completed by deadline

All riders must display an active CSA membership card (soft copy on phone or print-out). Membership numbers alone are not acceptable – a copy of active membership is required.
MANAGERS BRIEFING AT 9.45am
RACING STARTS AT 10am
Sep
30
Sat
2023 WC XCM #6

@ Shalom Academy, Ladismith
7Weekspoort MTB and Trail Run
The 6th WC XCM race will take place on 30 September 2023 at Ladismith.  To ENTER, race start info and programme, please view https://www.entryninja.com/events/78942-7weekspoort
Cycling South Africa Membership and Licence Requirements:   To register and race (and to qualify for regional or provincial colours), South African riders must hold a valid Cycling South Africa Membership or Cycling South Africa Full Racing Licence at the time of entry.
Juniors and Elites need to have Cycling South Africa Full Racing Licences and  all other categories may have Cycling South Africa Memberships.   For more information about Cycling South Africa, Click here
Please ensure that you have paid your Cycling South Africa fee.  Kindly bring your printed Membership/Licence Card to registration.
Foreign nationals and others with valid reasons for not having Cycling South Africa Membership/ Licences may purchase a day licence at registration or via the entry process in order to race.
Regions
To qualify for WC Colours Awards, you need to enter your Region correctly during the race entry process.  And, the Region that you select during the entry process, must be the same as the Region that you have on your Cycling SA profile.    Please check and correct you CyclingSA profile if necessary.
To check your Region, click your maps below:
Marking of the Track:  Marking of the track and the construction of the race village will commence on Thursday prior to the event.