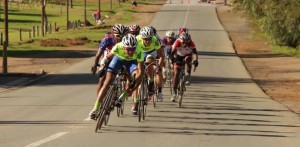 The youth festival is an annual event that is presented during the September holidays in the Free State.  A similar event was hosted by Western Province during the April holidays in Oudtshoorn and Mpumalanga in June.  The event is mainly aimed at provincial teams competing against each other in 5 different cycling events, three Road (hill climb, criterium, road race) and MTB.  If everything goes well and we are able to make the required arrangements in time with the relative parties, we hope to present MTB also at the event during September.  Although this event is oriented at teams, competing individual riders are also welcome and will also contribute points towards their provinces.
This year's event will again involve a youth and junior racing format (Provincial Competition) that will run simultaneous to the Youth Event. These boys will be riding longer distances and will make up teams of minimum 4 riders or individual riders. There is a big need for competitions like this to prepare these youngsters for the future racing.  There are no other events in which they can compete as a team and learn the skills needed to compete at a higher level.  The under-10, u12, u14, u16 and junior age categories will be able to enter for this event.
The event will run from 24 September — 28 September in Bloemfontein.
Juniors
Nicholas Dlamini – Velakaya
Carl Bonthuys – Kinetic
Ayoob Isaacs – Mc2
Eaden May – Kinetic
Robert Ward – City
Donavan De Wet – City
Keanen Wagner (girl) – Kinetic
Muneeb Vermeulen – Kinetic
U16
Ethan Parker – Kinetic
Josh Abrahams – Kinetic
Jerrod Van Heerden – Kinetic
Branwill Blaauw – City
Nafees Isaacs – Mc2
Uzair Peters – Giants
Malik Suliman – Mc2
U/14
Abdul Matallib Sauls – MC2
Yusuf Evans – MC2
Amir Suliman – MC2
Wakeel Chattoo – MC2
Natheer Goodman – MC2
U/12
Imihaas Van der Hoven – Mc2
Raees Evans – Mc2
Iran Peters – Giants
U/10
Saligh Isaacs – Mc2
We would like to congratulate those chosen to represent WP during this series of events and wish you all a safe and successful tour.