The Atlantis Circuit is flat , as flat as a pancake and even with little or no wind to factor in, racing was always going to be fast and furious. Over 160 cyclists rolled over the start line on Sunday morning to contest the various categories. The 7.7 kilometre circuit has just 3 corners which makes it very easy to organize a cycle race on.
Cat 3 and Ladies
There are very fast sections on the circuit where it is almost impossible to attack as the speed is constantly over the 40 kph average and when the road turns into the prevailing breeze no riders or teams which are able to make an attack stick. The pattern of racing settled down after a few laps to a fast down the back section of the circuit and then recover up the drag to the start finish. and then accelerate out of the 3 corners to the far end of the course. There were a few half hearted attempts to stretch the bunch but no-one would commit to an 100% to an attack which would stay away.
Category 3
James Burgess (Outriders)
Zaheer Rahman (Infinity CC)
Chris Maurer (Outriders)
Ladies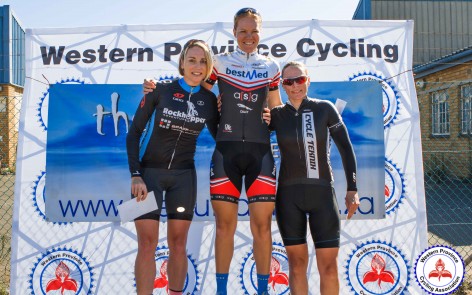 Maroeskja Matthee (Bestmed)
Bianca Holtzkampf (City CC)
Liezel du Preez (Cycle Teknix)
Category 2
The young Kinetic, CT Giant and Club Ultra Velo riders took the racing to their more experienced counterparts. A group of riders containing Wynand Dippenaar (Kinetic) Daneel Liebenberg (City) Danie Marais (Cycle 4Life) and Rafiek Kamaldien (Bellville CC) built up a handy lead three quarters into the race and with 3 laps to go it was up to the sprinters to bring this group back. This they did and with one lap to go, only a Kinetic and a Leadout rider were able to maintain a small gap on the bunch. Oswin Booysen managed to get one over Robin Harris in the sprint but they were both left to fight for 2 nd and third by Adrian de Bruyn who sprinted to his first win of the season.
Results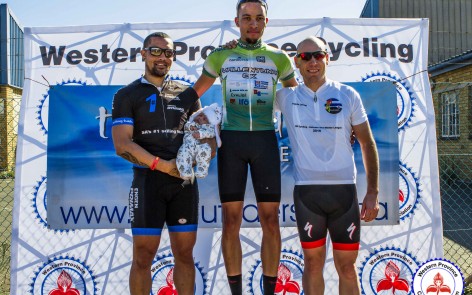 Adrian de Bruyn
Oswin Booysen
Robin Harris
Category 1
Category one had to negotiate the 7.7 km circuit 14 times so it was no surprise that the bunch allowed Devin Shortt and to build up a nice gap so early on. Once this break was brought back there were many attacks on each lap with many being neutralized by Team Aurecon with the help of the other teams and individual riders. This stretched the bunch around the circuit but with 3 laps to race it was the turn of Mathew Merrington (Team Giant) to take a flyer. When Mathew was caught it was the turn of Theuns vd Bank (Team Giant) to attack, this was pegged back by Team Leadout riders and the bunch was all together for the final sprint with Evan Carstens showing a clean pair of heels over the line.
Results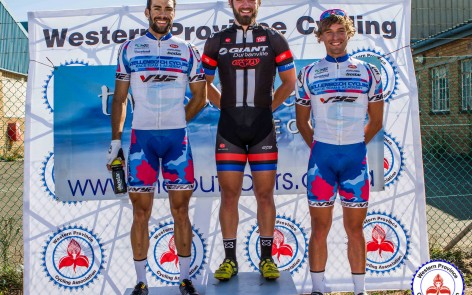 Evan Carstens (Team Giant)
Jon van Gesselleen (Stellenbosch Pro cycling)
Tiaan vd Merwe (Stellenbosch Pro Cycling)
League leaders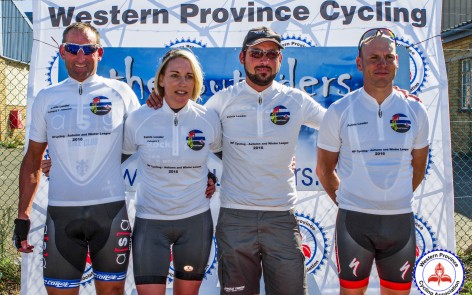 Results
These results are final.
Finish times are approximate.  Positions are however confirmed with video and accurate.
If you think it is incorrect or you are missing, please send your name, race number and Mobii chip number to
[email protected]
so that we can look into the matter. Do not phone, Skype, WhatsApp or FB Messanger me;
email
.
Category 1
| | | | | | |
| --- | --- | --- | --- | --- | --- |
| 1 | Evan | Carstens | 28:40.0 | 8 | Team Giant |
| 2 | Jonathan | van Gesselleen | 28:40.2 | 33 | Team Peugeot/ Deli 1 |
| 3 | Tiaan | van der Merwe | 28:40.2 | 60 | Team Peugeot/ Deli 1 |
| 4 | Rohan | Du Plooy | 28:40.3 | 2 | Team Lights by Linea Pro Cycling |
| 5 | Graeme | Ockhuis | 28:40.3 | 15 | Team LEADout |
| 6 | Juan Pierre | Jacobs | 28:41.8 | 40 | Team Aurecon |
| 7 | Aidan | Van Niekerk | 28:42.4 | 85 | Other |
| 8 | Rudie | Kellerman | 28:42.3 | 45 | Team Aurecon |
| 9 | Hans-Werner | Heuer | 28:43.0 | 5 | Team Alfa Bodyworks |
| 10 | Mark | Daly | 28:43.8 | 528 | Wannabees Cycling Club |
| 11 | Brandon | Christians | 28:43.8 | 21 | Team Alfa Bodyworks |
| 12 | Etnard | Louw | 28:43.4 | 546 | Cycle Teknix Social Racing Cycling Club |
| 13 | Bernard | Esterhuizen | 28:44.4 | 12 | Team Giant |
| 14 | Shakeel | Toefy | 28:45.3 | 91 | Team Alfa Bodyworks |
| 15 | Christoff | van Heerden | 28:46.8 | 148 | Other |
| 16 | Stefan | Ihlenfeldt | 28:46.9 | 1 | Team Lights by Linea Pro Cycling |
| 17 | MC | Dreyer | 28:47.0 | 93 | Tygerberg MTB Club |
| 18 | Wesley | Willenburg | 28:47.1 | 89 | City Cycling & Athletic Club |
| 19 | Benjamin | Fish | 28:47.2 | 111 | Cycle Lab CPT Supercycling Club |
| 20 | Alex | Parsons | 28:48.0 | 14 | Other |
| 21 | Josh | Gray | 28:49.4 | 64 | City Cycling & Athletic Club |
| 22 | Tauriq | Samie | 28:49.2 | 28 | Team Alfa Bodyworks |
| 23 | Devin | Shortt | 28:49.3 | 49 | Cycles Direct Cycling Club |
| 24 | Yusuf | Solomon | 28:49.2 | 86 | Team Alfa Bodyworks |
| 25 | Results suspended | | | | |
| 26 | Kelson | Da Cruz | 28:49.7 | 53 | City Cycling & Athletic Club |
| 27 | Ian | Lategan | 28:49.7 | 32 | Team Peugeot/ Deli 1 |
| 28 | John | Horn | 28:49.5 | 68 | City Cycling & Athletic Club |
| 29 | Kyle | de Wet | 28:49.9 | 17 | Team LEADout |
| 30 | Carl | Bonthuys | 28:50.2 | 6 | Team Lights by Linea Pro Cycling |
| 31 | Reginald | Benjamin | 28:50.6 | 25 | Team Alfa Bodyworks |
| 32 | Jacques | Van Zyl | 28:50.3 | 41 | City Cycling & Athletic Club |
| 33 | Dillon | Arendze | 28:50.8 | 47 | Cape Town Giants |
| 34 | Mihlali | Lupuwana | 28:50.8 | 58 | Ascends Cycling Club |
| 35 | Results suspended | | | | |
| 36 | Wian-David | Slabbert | 28:51.7 | 38 | Team LEADout |
| 37 | Bennie | Viljoen | 28:51.2 | 81 | Other |
| 38 | Paul Dean | Rörich | 28:51.5 | 44 | Team Aurecon |
| 39 | CONRAD | BOTHA | 28:51.8 | 59 | Cycle Lab CPT Supercycling Club |
| 40 | Steven | Hayes | 28:51.8 | 70 | |
| 41 | Mathew | Merrington | 28:53.6 | 10 | Team Giant |
| 42 | George | Perrins | 28:54.0 | 35 | Other |
| 43 | Timothy | Jenkinson | 28:56.6 | 71 | Team Giant |
| 44 | Dirkie | Nel | 28:56.6 | 3 | Team Lights by Linea Pro Cycling |
| 45 | Bronwin | Adams | 28:56.6 | 22 | Team Alfa Bodyworks |
| 46 | James | Tennand | 28:56.8 | 99 | Team Lights by Linea Pro Cycling |
| 47 | Siyabonga | Somchiza | 29:09.2 | 102 | Ascends Cycling Club |
| 48 | Max | Sullivan | 29:17.0 | 98 | Team Peugeot/ Deli 1 |
| 49 | Mthetheli | Boya | 29:20.2 | 29 | Ascends Cycling Club |
| 50 | Charl | Van Wyk | 29:41.6 | 42 | Team Aurecon |
| 51 | Byron | Munton | 32:53.7 | 16 | Team LEADout |
| 52 | Josh | Grant | 32:53.8 | 20 | Team LEADout |
| 53 | Nol | van Loon | 37:33.2 | 80 | Other |
| 54 | Abdul-Mutallib | Sauls | 07:56.1 | 26 | Team Alfa Bodyworks |
| 55 | Robert Matthew | Ward | 07:47.9 | 61 | City Cycling & Athletic Club |
| 56 | Joshua | Francis | 19:45.6 | 23 | Team Alfa Bodyworks |
| 57 | Jean-Paul | Da Silva | 38:27.6 | 63 | Cycle Lab CPT Supercycling Club |
Category 2
| | | | | | |
| --- | --- | --- | --- | --- | --- |
| 1 | Adrian | de Bruyns | 02:16:09.2 | 209 | Cycle Lab CPT Supercycling Club |
| 2 | Oswin | Booysen | 02:16:09.2 | 231 | Siphiwo Cycling Club |
| 3 | Robin | Harris | 02:16:09.7 | 255 | Cycles Direct Cycling Club |
| 4 | Rainhardt | Marais | 02:16:09.9 | 78 | Kinetic Cycling Club |
| 5 | Faizel | Hendricks | 02:16:10.4 | 276 | Team Ultra Velo |
| 6 | Sean | Raffaelli | 02:16:10.5 | 469 | Cycle Lab CPT Supercycling Club |
| 7 | Pierre E | Cronje | 02:16:10.5 | 201 | Team LEADout |
| 8 | Daneel | Liebenberg | 02:16:10.6 | 206 | Other |
| 9 | Whayde | Davids | 02:16:11.2 | 282 | Other |
| 10 | Zaid | Harris | 02:16:11.2 | 56 | Kinetic Cycling Club |
| 11 | Enzo | Grande | 02:16:11.2 | 315 | Tygerberg MTB Club |
| 12 | Imtiyaaz | van der Hoven | 02:16:11.2 | 266 | Team Ultra Velo |
| 13 | Quinton | le Sueur | 02:16:11.2 | 387 | Wannabees Cycling Club |
| 14 | Matthew | Fortuin | 02:16:11.2 | 392 | Kinetic Cycling Club |
| 15 | Tashreeq | Fataar | 02:16:11.7 | 291 | Team Ultra Velo |
| 16 | Clive | Fredericks | 02:16:11.7 | 270 | Club100 Cape Town |
| 17 | Tauriq | Gamildien | 02:16:11.7 | 316 | Siphiwo Cycling Club |
| 18 | Guy | Le Ray-Cook | 02:16:11.7 | 232 | Other |
| 19 | Jared | Hagan | 02:16:11.7 | 54 | City Cycling & Athletic Club |
| 20 | Wayne | Southgate | 02:16:11.8 | 267 | Siphiwo Cycling Club |
| 21 | Mathew | Waverley | 02:16:11.9 | 257 | Club100 Cape Town |
| 22 | Wynand | Dippenaar | 02:16:12.3 | 288 | Kinetic Cycling Club |
| 23 | Steven | Ing | 02:16:12.3 | 218 | |
| 24 | Waqaa-rudeen | Ismail | 02:16:12.8 | 246 | Cape Town Giants |
| 25 | Rob | Evetts | 02:16:12.9 | 236 | City Cycling & Athletic Club |
| 26 | Hector Charles | Ross | 02:16:13.0 | 320 | |
| 27 | Willem Sebastiaan | Van Heerden | 02:16:13.5 | 317 | Tygerberg MTB Club |
| 28 | Steven | Wood | 02:16:13.6 | 273 | City Cycling & Athletic Club |
| 29 | Shane | Rayners | 02:16:13.6 | 217 | Outriders |
| 30 | Randall | Februarie | 02:16:14.0 | 305 | Siphiwo Cycling Club |
| 31 | Henk | van der Watt | 02:16:14.3 | 230 | |
| 32 | Daniel | Marais | 02:16:14.3 | 390 | Other |
| 33 | Pete | Nelson | 02:16:17.3 | 55 | City Cycling & Athletic Club |
| 34 | Moller | Goedhals | 02:16:18.2 | 67 | Team LEADout |
| 35 | Brandon | Knowlden | 02:16:19.3 | 500 | Cycle Lab CPT Supercycling Club |
| 36 | Rafiq | Kamaldien | 02:16:35.2 | 269 | Infinity Cycling Club |
| 37 | Thaafier | Jaffer | 02:16:46.0 | 287 | Team Ultra Velo |
| 38 | Arthur | Parsons | 02:16:47.9 | 204 | Outriders |
| 39 | Craig | Edwards | 02:16:47.9 | 321 | |
| 40 | UNKNOWN | Fourton | 02:16:47.9 | 389 | Please contact us |
| 41 | Barry | Austin | 02:16:47.9 | 319 | Leadout |
| 42 | Ferdinand | Roberts | 02:17:02.4 | 360 | Kinetic Cycling Club |
| 43 | Ahmed | Khatieb | 02:18:25.2 | 281 | Kinetic Cycling Club |
| 44 | Rodney George | Pedro | 02:18:25.9 | 388 | Kinetic Cycling Club |
| 45 | Ayrton | de Leeuw | 02:19:36.8 | 31 | |
| 46 | Gamiem | Isaacs | 02:40:41.4 | 286 | Team Ultra Velo |
| 47 | John | Moss | 02:40:41.4 | 440 | City Cycling & Athletic Club |
| 48 | Jiyaad | Johnson | 02:41:36.9 | 544 | Other |
| 49 | Bantu | Maquba | 02:49:04.3 | 224 | Ascends Cycling Club |
| 50 | Vuyo | Mavuya | 01:17:44.7 | 83 | Bonga.Org Cycling Academy |
| 51 | Johann | Bredenkamp | 00:10:19.3 | 75 | Team LEADout |
Category 3
| | | | | |
| --- | --- | --- | --- | --- |
| 1 | James | Burgess | 01:34:50.3 | 593 |
| 2 | Zaheer | Rahman | 01:34:50.4 | 253 |
| 3 | Chris | Maurer | 01:34:50.9 | 487 |
| 4 | Bjorn | Pienaar | 01:34:51.0 | 598 |
| 5 | Andrew | Hutton | 01:34:51.2 | 489 |
| 6 | Jonathan | Weltman | 01:34:52.1 | 400 |
| 7 | Tyrone | De Smidt | 01:34:52.2 | 423 |
| 8 | Mahmood | Kariel | 01:34:52.6 | 426 |
| 9 | Delano | Beukes | 01:34:52.1 | 554 |
| 10 | Loyiso | Fulu | 01:34:53.0 | 586 |
| 11 | Esrick | Bull | 01:34:53.0 | 568 |
| 12 | Michael | Williams | 01:34:53.0 | 397 |
| 13 | John | Martin | 01:34:53.1 | 430 |
| 14 | Derwyn | Oxley | 01:34:53.5 | 473 |
| 15 | Charl | Bezuidenhout | 01:34:53.6 | 520 |
| 16 | Ismail | Patel | 01:34:52.7 | 425 |
| 17 | Maroesjka | Matthee | 01:34:53.3 | 252 |
| 18 | Bianca | Holtzkampf | 01:34:53.4 | 229 |
| 19 | Warren | van Eyssen | 01:34:53.5 | 234 |
| 20 | Liezel | Du Preez | 01:34:53.4 | 280 |
| 21 | Unknown | (CycleLab/Toyota logo) | 01:34:53.4 | |
| 22 | Storm | King | 01:34:53.6 | 432 |
| 23 | Werner | Smit | 01:34:53.6 | 212 |
| 24 | Leon | Lawrence | 01:34:53.6 | 422 |
| 25 | Graeme Paul | Warrin | 01:34:54.4 | 510 |
| 26 | Hambly | Quantrill | 01:34:54.6 | 558 |
| 27 | Moegamat | Sambo | 01:34:54.6 | 462 |
| 28 | Ashley | Accom | 01:34:54.6 | 404 |
| 29 | Brett | Walker | 01:34:54.4 | 439 |
| 30 | Chris | Fowles | 01:34:54.4 | 599 |
| 31 | Daron Gavin | Medcalf | 01:34:54.6 | 492 |
| 32 | Robin | Sanders | 01:34:54.4 | 534 |
| 33 | Unknown | (Outrider) | 01:34:54.4 | |
| 34 | Anton | Koch | 01:34:55.0 | 584 |
| 35 | Robin | Darius | 01:34:55.0 | 434 |
| 36 | Dennis | Lamminga | 01:34:54.8 | 475 |
| 37 | Neil | Jonker | 01:34:55.0 | 407 |
| 38 | Ashleigh | Parsons | 01:34:55.5 | 471 |
| 39 | Kobus | Botha | 01:34:55.9 | 74 |
| 40 | Jonathan | Manuel | 01:34:56.9 | 535 |
| 41 | Pieter Marthinus | Basson | 01:34:57.1 | 585 |
| 42 | Tauhier | Sasman | 01:34:57.1 | 458 |
| 43 | Bronwyn | Abrahams | 01:34:56.5 | 516 |
| 44 | Garth | Meiring | 01:34:57.3 | 428 |
| 45 | Duncan | Hoole | 01:34:57.6 | 215 |
| 46 | Nazeem | Ryklief | 01:34:57.6 | 597 |
| 47 | Aluis | Inglis | 01:34:57.7 | 518 |
| 48 | Warren | Heald | 01:34:58.1 | 412 |
| 49 | Gary | Colbeth | 01:34:58.1 | 452 |
| 50 | Tyrone | Filander | 01:34:58.1 | 591 |
| 51 | Nathan | Reid | 01:34:58.1 | 398 |
| 52 | Lee | Olivier | 01:35:00.6 | 410 |
| 53 | Hanber | Leedo | 01:34:59.9 | 415 |
| 54 | Mike | David | 01:34:59.9 | 147 |
| 55 | Nadiem | Dollie | 01:34:59.9 | 595 |
| 56 | Marshallino | Damonse | 01:34:59.9 | 392 |
| 57 | Hendrik | Brand | 01:35:02.2 | 401 |
| 58 | Mahdi | Kariem | 01:35:04.1 | 414 |
| 59 | Guillaume | Wessels | 01:35:04.1 | 391 |
| 60 | Chante | Van der merwe | 01:35:05.2 | 228 |
| 61 | Philip James | Kannemeyer | 01:35:05.5 | 490 |
| 62 | André | Seboa | 01:35:05.4 | 446 |
| 63 | Luke | Pheiffer | 01:35:09.0 | 465 |
| 64 | Quinten | Oliver | 01:35:11.0 | 474 |
| 65 | Carla | Steyn | 01:35:12.0 | 397 |
| 66 | Nadia | van Niekerk | 01:35:12.5 | 202 |
| 67 | Andrew | Hooper | 01:36:14.1 | 555 |
| 68 | Yazeed | Toffa | 01:36:14.1 | 453 |
| 69 | Imran | Ebrahim | 01:36:42.7 | 477 |
| 70 | Siphelo | Mtsolo | 01:36:43.4 | 588 |
| 71 | Graham | Prinsloo | 01:37:36.0 | 514 |
| 72 | Mire | Herbst | 01:37:38.0 | 289 |
| 73 | Zane | Green | 01:37:40.7 | 420 |
| 74 | Mogamat Armien | Richards | 01:39:25.5 | 494 |
| 75 | Graham John | Ward | 01:39:32.2 | 456 |
| 76 | Carrick | Pittman | 01:23:44.4 | 470 |
| 77 | Wesley | Nitsckie | 01:23:46.3 | 205 |
| 78 | Mogamat Yusuf | Sonday | 01:25:47.9 | 0 |
| 79 | Yusuf | Sampson | 01:32:34.3 | 533 |
| 80 | Zaki | Hendricks | 01:41:08.7 | 454 |
| 81 | Luthando | Gqamana | 01:07:28.0 | 523 |