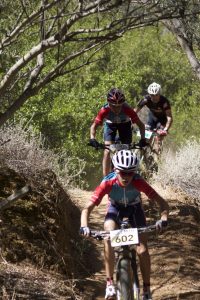 Date:                     21 February 2015
Venue:                 Rhebokskloof Wine Estate
The 2nd event in the WP MTB XCO series will be held at Rhebokskloof Wine Estate this upcoming weekend. The wine estate has agreed to open their function venue and will serve cool drinks, tea, coffee and food. The restaurant will also be open during this time and picnic baskets may be ordered in advance.
Additional parking will be provided on the grass field adjacent to the start.
Registration
ALL INDIVIDUALS PARTICIPATING MUST BE PRESENT AT REGISTRATION, IRRELEVANT OF WHETHER THEY OWN A SEASON BIKE BOARD OR CSA MEMBERSHIP. This is required to ensure that all data is correctly captured and to guarantee a smooth process while the database is being collated.
Registration will be held at Rhebokskloof Wine Estate between 15h00 – 18h00 on Friday, 20 February and again on Saturday, 21 February between 07h30 and 08h30. No late registration will accepted.
Entries
Online registration can be found on the WP MTB website which will close on Thursday evening.  Please ensure that you bring proof of payment along to registration.
The entry fees will be as follows:
Nippers & Sprogs                          R100 per event
All other categories                       R200 per event
Late entries on the morning of the race will be accepted during the registration period which is 07h30 to 08h30.  Entry fees for late entries are as follows:
Nippers & Sprogs                           R125 per event
All other categories                        R250 per event
All entries should be supported by a CSA membership or license card. If you do not have a CSA license, a temporary CSA license can be obtained during the online entry process or physical entry process at R35.
Bike Boards
For those who already have their season's bike boards allocated to them, this must be brought along and presented during the registration process. Those who have not yet received bike boards will be liable to pay a once-off R50 for an annual bike board. Replacements of bike boards will be levied at an additional R50.
Course Lay-Out
For those that raced WP MTB XCO # 1, the course has been altered. This is due to the fact that the management at Rhebokskloof Wine Estate has granted us the opportunity to use the lawn in front of the function venue, restaurant and manor house. This means that participants will race along the dam wall and the finish line will be positioned to ensure a spectator friendly environment.
Please click here to view the course lay-out. It measures 5km's for the full course and 2.5km's for the shortened course (marked in yellow) for the Nippers and Sprogs.
Race Schedule
The race schedule has unchanged from WP MTB XCO # 1. Please click here to view the race schedule.
Practice
Official practice is at Rhebokskloof Wine Estate between 07h30 and 08h30 on Saturday morning. The course should be laid out from Wednesday this week, but should you wish to ride at Rhebokskloof Wine Estate you are required to sign their register/indemnity at reception and pay the R35 levy.
Prize Money
Should the number of entrants exceed 250, the prize money will increase substantially from WP MTB XCO # 1. If this is the case, prize money for Elites could exceed R1500.
Race Results
Unfortunately, due to Eskom's load shedding, a programming error occurred on the timing system. To ensure that the results are accurate they are being reconciled with manual results taken down from Saturday. We expect a full set of results to be posted by Thursday.
Generators will be organised for WP MTB XCO # 2, should load shedding occur.
Photos
Photos taken at the WP MTB XCO # 1 by both Shane Wilson and Sieb Sieberhagen will be loaded on the website by Wednesday afternoon. A professional photographer will once again be assigned to WP MTB XCO # 2 at Rhebokskloof Wine Estate. These photographs will be published on the website during the following week.